The New Zealand Journal of Ecology has published a special issue (Vol 40, No. 2; 2016) containing eight open-access papers that discuss the roles of rats on seabird islands, including a number that support breeding populations of procellariiforms.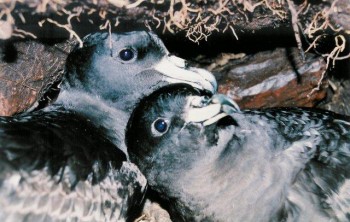 Black Petrels: endemic to New Zealand
The authors and titles of these papers follow. Click on the downloads to obtain the texts.
Elizabeth Bell, Brian Bell & Don Merton. The legacy of Big South Cape: rat irruption to rat eradication. Download pdf (3.06 MB).
Grant Harper & Malcolm Rutherford. Home range and population density of black rats (Rattus rattus) on a seabird island: a case for a marine subsidised effect? Download pdf (625.94 KB).
Judith Robins, Steven Miller, James Russell, Grant Harper & Rachel Fewster. David Towns, Stephanie Borrelle, Joshua Thoresen, Rachel Buxton & Annette Evans. Where did the rats of Big South Cape Island come from? Download pdf (1.53 MB).
Imogen Bassett, Jeff Cook, Finlay Buchanan & James Russell. Treasure Islands: biosecurity in the Hauraki Gulf Marine Park. Download pdf (2.3 MB).
Alysha Bagasra, Helen Nathan, Mark Mitchell & James Russell. Tracking invasive rat movements with a systemic biomarker. Download pdf (481.11 KB).
Keith Springer. Methodology and challenges of a complex multi-species eradication in the sub-Antarctic and immediate effects of invasive species removal. Download pdf (5.17 MB).
Rowley Taylor. Early ecological research on rodents in New Zealand, 1946–1976: personal recollections. Download pdf (2.42 MB).
The papers were first presented at the 50th Anniversary of Rodent Eradications in New Zealand Symposium, held at the University of Auckland in September 2014.
John Cooper, ACAP Information Officer, 15 January 2015