Lindsay Young and Eric Vanderwerf (Pacific Rim Conservation, Honolulu, Hawaii, USA) have published in 'Elepaio, journal of the Hawai'i Audubon Society, on attempts to establish the Black-footed Albatross Phoebastria nigripes as a breeding species at Kaena Point on the Hawaiian island of Oahu. They conclude that chick translocation may be the way to go.
The paper's abstract follows:
"The Black-footed Albatross (Phoebastria nigripes; BFAL) breeds primarily in the low-lying Northwestern Hawaiian Islands where it is vulnerable to the effects of sea level rise. Establishing additional colonies on high islands is one of the most important conservation actions for this species. We documented BFAL sightings on Oʻahu from 2003-2015 and describe initial efforts to use social attraction to create a new colony at Kaʻena Point Natural Area Reserve. We made observations of BFAL at Kaʻena Point during weekly visits to monitor nesting Laysan Albatrosses (P. immutabilis) from November-June in 2003- 2015 and we used remote trail cameras starting in 2010 to supplement observations. Social attraction of BFAL consisted of three decoys placed in 2011 and a solar-powered sound system broadcasting BFAL courtship calls in 2015. Thirty-four BFAL observations occurred at Kaʻena Point from 2006- 2015 and the number of observations increased over time. Sixteen individuals spent time on the ground and 18 were seen flying over land. Twenty-seven of 34 observations (79%) occurred after social attraction was initiated and 11 observations occurred during 2015, the year vocalizations first were broadcast. We banded two birds (one male in 2012 and one female in 2014). All but two observations were of single birds. Although visitation appears to have increased following social attraction, BFAL have yet to begin breeding at Kaʻena Point. More direct actions, such as translocation of chicks, may be needed to initiate new colony formation in the main Hawaiian Islands."
Hopefully, the recent theft of the sound system and trail cameras (click here) will not set the exercise back unduly.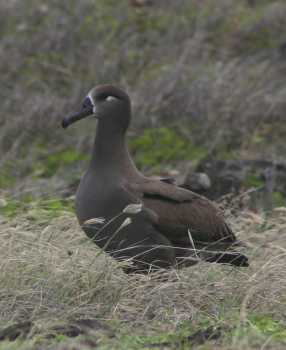 Black-footed Albatross at Kaena Point, photograph by Lindsay Young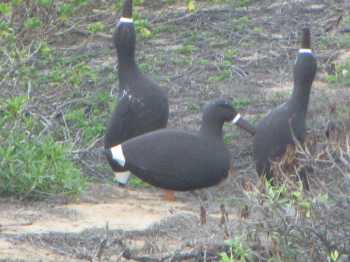 Decoys at Kaena Point, Photograph by Lindsay Young
Reference:
Young, L.C. & Vanderwerf, E.A. 2016. The beginning of Black-footed Albatross colonization on Oʻahu, Hawaiʻi. 'Elepaio 76(1): 1-4.
John Cooper, ACAP Information Officer, 02 January 2015