The Tasmanian Albatross Fund aims to raise money to help support monitoring and conservation of the Near Threatened Shy Albatross Thalassarche cauta, endemic to three small islands off the coast of Australia's Tasmania. It also helps fund ongoing education and outreach activities.
To support the fund, photographer Matthew Newton and artist Richard Wastell spent 10 days ashore on Albatross Island last year. They have compiled an exhibition "On Albatross Island" of the works they produced which opened last month in the Victoria Museum and Art Gallery in Launceston, Tasmania and will continue until 3 April next year. It is accompanied by a similar exhibition aimed at children named "Albatrossity". The exhibition will then open in the Moonah Arts Centre on 23 April in Hobart.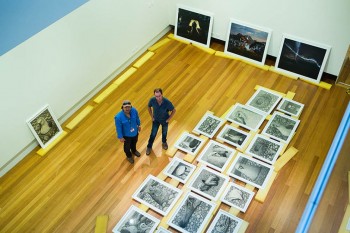 Photographer Matthew Newton and artist Richard Wastell set up the exhibition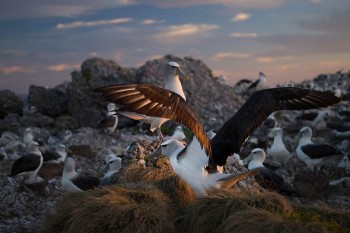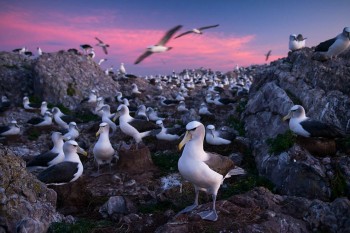 Exhibition photographs from Albatross Island by Matthew Newton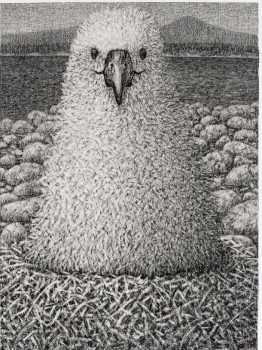 Charcoal drawing of a Shy Albatross chick by Richard Wastell
Only five persons are allowed at a time on Albatross Island when monitoring is underway and access is strictly forbidden at all other times to prevent the introduction of diseases, feral animals and other potential threats.
Read more about research on Albatross Island and about the exhibition here and here.
John Cooper, ACAP Information Officer, 16 December 2015