Mike Bell (Chatham Islands Taiko Trust, Chatham Islands, New Zealand) has published in the annual journal Sea Swallow of the Royal Naval Birdwatching Society on efforts to establish a new breeding colony of the ACAP-listed and Vulnerable Chatham Albatross Thalassarche eremita.
A total of 110 chicks was moved from the Pyramid, the species' sole breeding site, to Point Gap on the main Chatham Island in 2014 and 2105. All but six, affected by heat stress, have successfully fledged after hand feeding. Plans exist to continue translocations for a further three breeding seasons.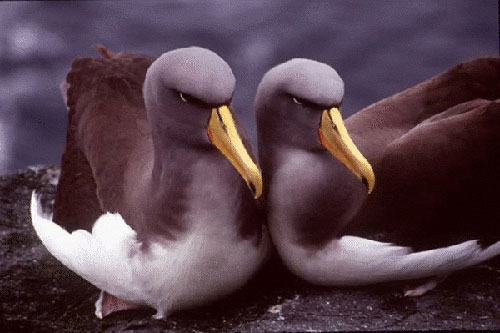 Chatham Albatross pair, photograph by Graham Robertson
Access past news about the translocation exercise here.
Reference:
Bell, M. 2015. Establishing a new colony of Chatham Island Albatross in the Chatham Islands, New Zealand. Sea Swallow 64: 4-8.
John Cooper, ACAP Information Officer, 11 December 2015