The United States Fish & Wildlife Service is this week to translocate up to 10 chicks of the Vulnerable Hawaiian Petrel or 'Ua'u Pterodroma sandvicensis from its montane colonies into a fenced and predator-free site at Nihoku within the Kilauea Point National Wildlife Refuge on the Hawaiian island of Kauai.
The fenced area is also expected to offer a safe breeding site to ACAP-listed Laysan Albatrosses as well as to Wedge-tailed Puffinus pacificus and Endangered Newell's P. newelli Shearwaters.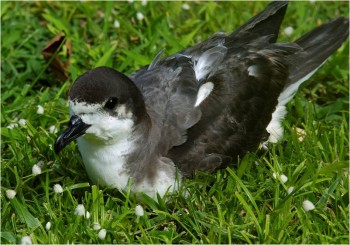 Hawaiian Petrel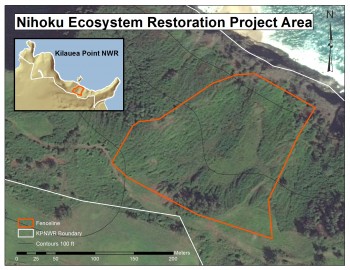 "The Service completed an environmental assessment (EA) on Management Actions for Immediate Implementation to Reduce the Potential for Extirpation of 'Ua'u from Kaua'i. The Service has issued a Finding of No Significant Impact (FONSI) for the EA (click here). While this project will be the first translocation of chicks of listed seabirds on Kaua'i and within Hawai'i, translocation of closely related seabird species has been used with great success in New Zealand in order to create new colonies. It is hoped that similar outcomes will be achieved on Kaua'i. This project will protect nesting ʻUaʻu from predation by non-native feral cats and rats, and now potentially mongooses [click here], a new introduced predator that may have become established on Kaua'i".
The Kīlauea Point National Wildlife Refuge (KPNWR) was established in 1985 to preserve and enhance seabird nesting colonies. In 1988 the refuge was expanded to include Crater Hill (Nihoku) and Mōkōlea Point.
The translocation project is being conducted in collaboration with the American Bird Conservancy, Kaua'i Endangered Seabird Recovery Project, National Fish and Wildlife Foundation, Pacific Rim Conservation and the State of Hawaii Department of Land and Natural Resources.
Read more on the translocation exercise here.
John Cooper, ACAP Information Officer, 02 November 2015