Recent field work on New Zealand's Raoul Island in the Kermadec Islands strongly suggests that Kermadec Little Shearwaters Puffinus assimilis kermadecensis are now breeding ashore.
Prior to the eradication of introduced mammals the shearwater had not been found breeding on the island so it can be presumed they had disappeared by the 19th century; rats Rattus spp. and feral Domestic Cats Felis catus were eradicated on 29-km² Raoul between 2002 and 2006 by New Zealand's Department of Conservation.
The finding of active smallish burrows in the forest at Wilson's Point led to the deployment of a remote recorder which resulted in Kermadec Little Shearwaters being found to be "vocalising strongly around 8 to 9.30 pm each night and then near dawn around 5 am with scattered calls between". An overnight stay then detected the presence of shearwaters overhead and on the ground, along with a Kermadec White-faced Storm Petrel Pelagodroma marina albiclunis. Both subspecies are endemic to the Kermadec Islands.
The numbers of Kermadec Little Shearwaters on the island are estimated as being at least 50 pairs but likely over a 100 pairs.
Read the whole account here.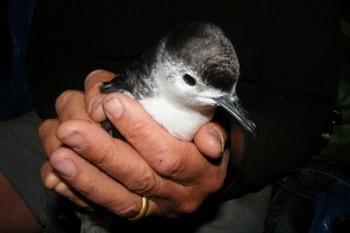 Kermadec Little Shearwater, photograph courtesy of the Auckland Museum Kermadec Expedition
Raoul Island has recently been included within a new and large marine protected area (click here).
John Cooper, ACAP Information Officer, 17 October 2015