Seven Endangered Newell's Shearwaters Puffinus newelli or 'A'o fledglings that had been rescued after being grounded by artificial lights were released by school children from two Hawaiian schools on the island of Kauai last week as part of the annual E Ho'opomaika'i 'ia na Manu 'A'o (Cultural Release of the Native Newell's Shearwater) event.
This is the eighth year the Kauai Endangered Seabird Recovery Project has teamed up with the Save Our Shearwaters (SOS) project of the Kauai Humane Society to give children the chance to be a part of the release of rehabilitated 'A'o fledglings. Fourth-grade students from Wilcox Elementary School and Island School participated in the blessing and releases.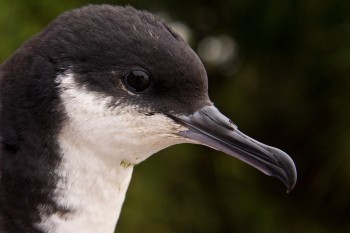 Newell's Shearwater, photograph by Eric Vanderwerf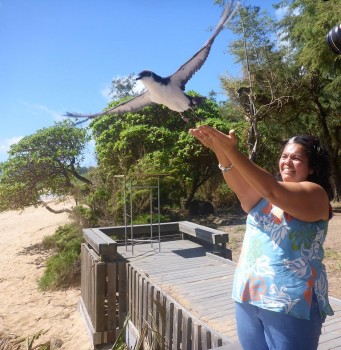 A 2015 Newell's Shearwater fledgling gets released by school teacher Rhonda Cabello, photograph by Constance Johnson
Sabra Kukua, a Hawaiian Studies teacher facilitated the ceremony: "It's not just our island, as human beings, but it's for the birds and the fish and the plants, too." "It's extremely important to expose the kids to these birds that they probably won't otherwise see because they're nocturnal and they live out in the mountains, this is a really good opportunity to see an endangered bird up close." A chant, used every year at the event, speaks about the beauty of Kauai and the Eastern coast that asks for protection for the birds so that they can live long, happy lives.
"There's no better way to get kids to care, than by exposing them to the birds," said Constance Johnson, a staff member with Kauai Endangered Seabird Recovery Project. "It's about letting people know that their actions make a difference."
Read more on the release here.
View a video on what to do with downed birds and read more on how light pollution affects Newell's Shearwaters here.
John Cooper, ACAP Information Officer, 19 October 2015