The Federative Republic of Brazil is one of 13 Parties to the Agreement on the Conservation of Albatrosses and Petrels (ACAP), with a date of entry into force of 1 December 2008 (click here).
Brazil has now become the 122nd Party to the Convention on the Conservation of Migratory Species of Wild Animals (CMS or Bonn Convention) with effect from 1 October this year.
"As an environmental treaty under the aegis of the United Nations Environment Programme, CMS provides a global platform for the conservation and sustainable use of migratory animals and their habitats. CMS brings together the States through which migratory animals pass, the Range States, and lays the legal foundation for internationally coordinated conservation measures throughout a migratory range." (click here).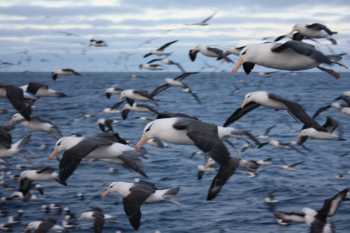 Black-browed Albatrosses occur in numbers in Brazilian waters, photograph by Graham Parker
According to Minister of the Environment of Brazil Izabella Teixeira, "Brazil's ratification of the Convention on Migratory Species (UNEP-CMS) confirms the country's firm commitment to the conservation and sustainable use of biodiversity. By means of this, Brazil will be able to further strengthen cooperation for environmental protection with its international partners and to contribute to global efforts focusing on migratory species. Brazil is looking forward to work in close collaboration with CMS Parties and under the auspices of that Convention in the areas of research, conservation and sustainable management of migratory species, which are particularly important for Brazilians because of the characteristics of our large territory,"
Brazil regularly attends and contributes to meetings of ACAP. It published its National Plan of Action for Reducing Incidental Catch of Seabirds in Fisheries (NPOA-Seabirds) in 2006.
With Brazil's accession to the CMS all 13 Parties to ACAP are now also Parties to the Convention on Migratory Species (click here).
John Cooper, ACAP Information Officer, 04 October 2015