The NGO BirdLife Malta plans to hire four staffers for its new seabird conservation project "LIFE Arcipelagu Garnija - Securing the Maltese islands for the Vulnerable Yelkouan Shearwater" which is about to start soon. Four full-time posts to work with the Mediterranean endemic and currently Vulnerable Yelkouan Shearwater Puffinus yelkouan are currently being recruited.
Project Manager
The Project Manager will ensure the effective and efficient completion and management of the EU project, deliver the project results and manage the staff and volunteers involved in project delivery. Applicants are expected to have project management experience and good knowledge of birds and conservation, especially seabirds.
Project Wardens (two posts)
Project Wardens will undertake a range of duties at, or near to, relevant nesting sites of Yelkouan Shearwaters in the Maltese islands, including public relations, practical conservation and data gathering for research. Applicants are expected to have experience of practical conservation, research and public outreach.
Administration Assistant
The Administration Assistant will spend half of their time supporting the project through supporting the team and partner organisations with financial, clerical and related tasks. The rest of the time the Assistant will support BirdLife Malta's general administrative workload, with a focus on servicing the membership. Applicants are expected to have experience of clerical and finance work with good customer service skills.
The closing date for submission of applications is 7 October 2015.
Read more with details of how to apply here.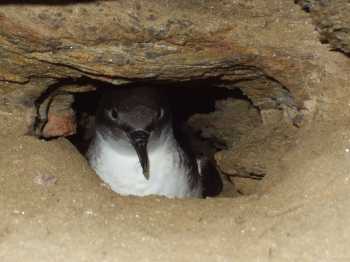 Yelkouan Shearwater at its breeding site, photograph by Jerome Legrand
The Yelkouan Shearwater has been identified as a potential candidate for listing within the Albatross and Petrel Agreement.
John Cooper, ACAP Information Officer, 02 October 2015