Five positions are open for ornithological field assistants for a 13-month sojourn at South Africa's Marion Island in the southern Indian Ocean from April next year. Field work will include studies of the ecology and conservation of eight ACAP-listed species, such as Grey-headed Thalassarche chrysostoma and Wandering Diomedea exulans Albatrosses. Opportunities exist for using field data collected towards higher degrees.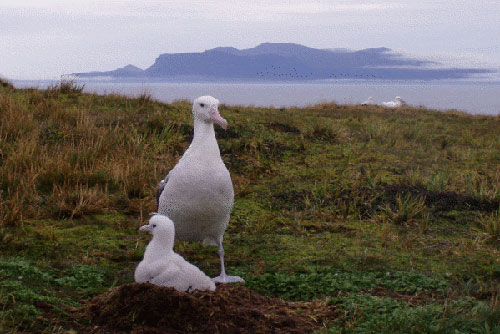 Wandering Albatross guards its chick on Marion Island with Prince Edward Island on the horizon, photograph by John Cooper
"Applicants must be physically fit, self-motivated and willing to work in remote isolation as part of a small team. Applicants must have a good head for heights and knowledge of basic rope safety techniques to access [albatrosses] which breed on cliffs. Experience in handling seabirds is essential. Experience in hiking is a strong recommendation as Marion Island is a cold, wet and windy environment, and the only access to [some] study sites is by walking up to eight hours per day over rough terrain in rubber boots."
Studies will include "recording breeding success, estimating adult survival, assessing foraging distributions by deploying and recovering a range of data loggers, and sampling chick diet. They also will contribute towards long-term seabird monitoring programmes and assist with data collection on a range of seabird species, including deploying and recovering tracking devices and obtaining diet samples from selected seabirds."
"The successful applicants will spend a full year (April 2016 to May 2017) at Marion Island. There is no option to return to South Africa before May 2017. The ability to work and live with small groups of people is thus essential. Although the base is well equipped with e-mail, fax and satellite telephone facilities, the applicants have to be self-sufficient and self-motivated."
Read more on the positions here. Applications must be received by 5 October.
John Cooper, ACAP Information Officer, 24 September 2015