The Vulnerable Pink-footed Shearwater Puffinus creatopus is a recently listed ACAP species. A breeding endemic to Chile it migrates to the northern hemisphere – as far as Canadian waters - after breeding. Over recent years the species' trans-equatorial migration route along the eastern Pacific seaboard has been studied by use of transmitters.
Solar-powered satellite transmitters were again placed on Pink-footed Shearwaters in April this year on Isla Mocha in Chile. Currently, there are three birds with transmitters near the USA-Canada border in Washington State, three off southern California, two in Baja, Mexico, and two off Peru (click here for updates).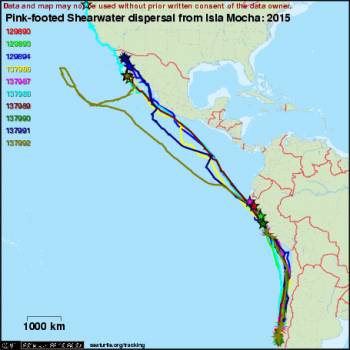 Pink-footed Shearwater migration routes covered to date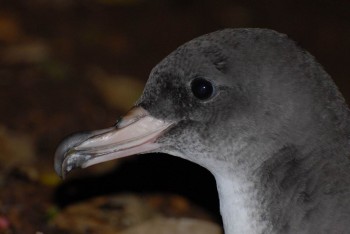 Pink-footed Shearwater, photograph by Peter Hodum
Click here for an earlier posting on the shearwater's migration.
The tracking study is a project of the U.S. Geological Survey and Oikonos Ecosystem Knowledge.
Selected Literature:
Commission for Environmental Cooperation 2005. North American Conservation Action Plan: Pink-footed Shearwater. Secretariat of the Commission for Environmental Cooperation. vii + 49 pp.
Committee on the Status of Endangered Wildlife in Canada 2004. COSEWIC Assessment and Status Report on the Pink-footed Shearwater. Ottawa: Committee on the Status of Endangered Wildlife in Canada. vii + 22 pp.
Environment Canada, 2008. Recovery Strategy for the Short-tailed Albatross (Phoebastria albatrus) and the Pink-footed Shearwater (Puffinus creatopus) in Canada. Ottawa: Environment Canada. vii + 44 pp.
Hinojosa, S.A. & Hodum, P.J. 2008. Plan nacional para la conservación de la fardela de vientre blanco Puffinus creatopus Coues, 1864 en Chile. Corporación Nacional Forestal (CONAF) and Comisión Nacional del Medio Ambiente (CONAMA), Chile. 34 pp.
John Cooper, ACAP Information Officer, 24 August 2015