The EDGE (Evolutionarily Distinct and Globally Endangered) of Existence programme of the Zoological Society of London (ZSL) highlights and conserves one-of–a-kind species that are on the verge of extinction. The EDGE Fellowship Programme aims to provide structured training to early-career conservation biologists to undertake an applied research or conservation project on a local EDGE species.
In addition to receiving a grant of up to UK£ 8000, EDGE Fellows attend two regional training courses, undertake online modules in relevant topics and receive one-to-one support from a scientific advisor based at ZSL or a partner organisation. Applications are now open with a deadline of 15 June 2015 (click here).
Applicants must focus their work on a 100 EDGE species, be an early-career conservation biologist or wildlife manager (less than 10 years' experience) and be a national and resident of the country in which the proposed focal species occurs. Priority will be given to projects focusing on EDGE species where limited research has been done and/or that currently receive little or no conservation attention.
Seven procellariiform seabirds are included on the top 100 bird list for 2015, including the Critically Endangered and ACAP-listed Waved Albatross Phoebastria irrorata. The other six species are Jamaica Petrel Pterodroma caribbaea, Beck's Petrel Pseudobulweria becki, Peruvian Diving Petrel Pelecanoides garnotii (a potential candidate species for ACAP listing), Ashy Storm Petrel Oceanodroma homochroa, New Zealand Storm Petrel Oceanites maorianus and White-throated Storm Petrel Nesofregetta fuliginosa – all globally Endangered or Critically Endangered species.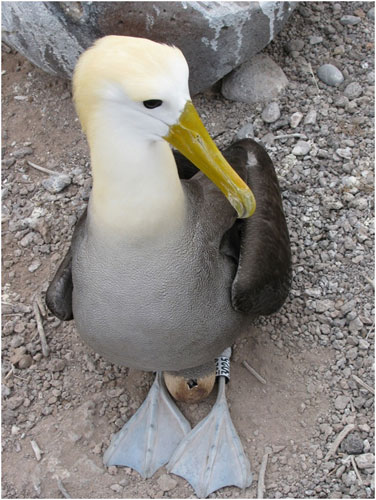 Waved Albatross, photograph by Kate Huyvaert
Successful applicants will be informed by the end of August 2015.
John Cooper, ACAP Information Officer, 25 May 2015