The Secretariat of the Convention on the Conservation of Migratory Species of Wild Animals (CMS) has announced two new funding opportunities.
"The first one is within the SOS – Save Our Species Rapid Action Grants that support projects aimed at addressing immediate threats that require targeted specific action. No deadline is indicated for applying for this SOS grant. Instructions for applicants can be found here.
The second funding opportunity is within the Mohamed bin Zayed Species Conservation Fund to support the protection of endangered species. The deadline for applying for this grant is 30 June 2015. Instructions for applicants can be found here.
These grants promote objectives that are consistent with those of the Convention and its specialized agreements and may thus provide a source of funding to assist the CMS Family with the implementation of conservation activities on the ground.
The Secretariat encourages Parties to the Convention and partner organizations to propose projects that contribute to the implementation of any plans, actions or initiatives developed under CMS and its instruments, and will strive to support these proposals with letters of endorsement."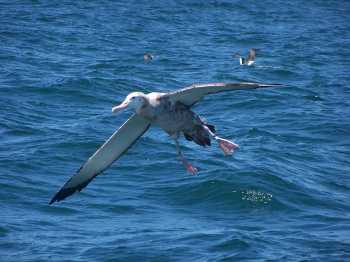 Tristan Albatross - a Critically Endangered migratory species, photograph by Martin Abreu
Anyone who is eligible and interested in submitting a project proposal to the SOS and/or the Mohamed bin Zayed Species Conservation Fund that supports CMS goals is asked to please contact Laura Cerasi, Associate Partnerships and Fundraising Officer, UNEP/CMS Secretariat at This email address is being protected from spambots. You need JavaScript enabled to view it..
With thanks to Østein Størkersen for information.
John Cooper, ACAP Information Officer, 11 May 2015