Professor John Croxall CBE, FRS has been recognized by the British Ornithologists' Union (BOU), UK's senior ornithological body, by the award of its Union Medal at its 2015 Annual Conference (click here). John was Head of Conservation Biology at the British Antarctic Survey (BAS) for many years and following his retirement from BAS is currently Chair of the Global Seabird Programme of BirdLife International.
In the past John has been active chairing committees and working groups of the Commission for the Conservation of Antarctic Marine Living Resources (CCAMLR), the Scientific Committee on Antarctic Research (SCAR), and of the Albatross and Petrel Agreement, attending ACAP meetings on both United Kingdom and BirdLife International delegations at different times.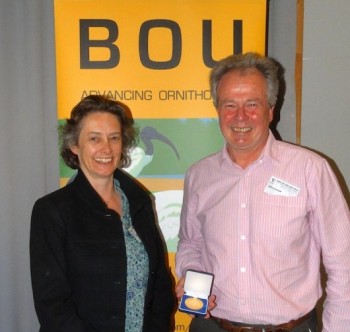 John receives his Union Medal from the BOU President, Jenny Gill
John holds the President's Medal of the British Ecological Society. He was recognized by the Pacific Seabird Group with its Lifetime Achievement Award in 2008 and was awarded the BOU's Godman Salvin Medal in 2004. He is an Honorary Professor at the Universities of Birmingham and of Durham, and is an Honorary Fellow of the American Ornithologists' Union, a Fellow of the Royal Society and is a Commander of the Most Excellent Order of the British Empire, allowing him to add the (post-nominal) letters CBE, FRS after his name.
John Croxall has served as President of the BOU and Chairman of Council of the Royal Society for the Protection of Birds (RSPB; BirdLife's UK Partner). These two positions express perfectly how John has managed to marry top-quality research on albatrosses and other seabirds with ground-breaking efforts towards their conservation at the international level.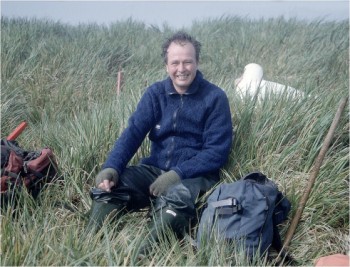 John Croxall on Bird Island with a Wandering Albatross in his days with the British Antarctic Survey
It has been a great pleasure for me to have worked with John in several of the above-mentioned bodies over the years. As they say in cycling circles: chapeau!
John Cooper, ACAP Information Officer, 08 April 2015