The Australian Government's Threatened Species Commissioner has made AUD 300 000 available to expand rodent control (which commenced in 1992) in and outside of Norfolk Island National Park on Norfolk Island in the Pacific Ocean (click here). This action is set to help protect the endemic Norfolk Island Green Parrot Cyanoramphus cookii which has declined in numbers to no more than a couple of hundred individuals, now largely restricted to the island's national park and adjacent forested areas and orchards (click here). Predation by feral Domestic Cats Felis catus and Black Rattus rattus and Polynesian R. exulans Rats are considered causative factors in the decline. House Mice Mus musculus are also present.
The "funding will enhance the rat baiting program across Norfolk Island National Park and expand it beyond the park's borders. This will complement work to tackle feral cats [trapping of cats started in1989 within the park] and substantially reduce direct and indirect impacts of rats on native species and their habitats. The project will:
increase the number of rodent bait stations across Norfolk Island National Park, including filling gaps in the park's existing rat baiting network

expand the existing network of bait stations to incorporate part of the bordering forestry reserve

establish a program of ongoing servicing and monitoring to cover the expanded bait station network."
The enhanced control programme is expected to help the island's ground-nesting seabirds, including the Wedge-tailed Shearwater Puffinus pacificus with "several hundred thousand" reported in 1981 to be present. However, the island's population is thought to have declined significantly since the 1980s due to attacks by feral cats.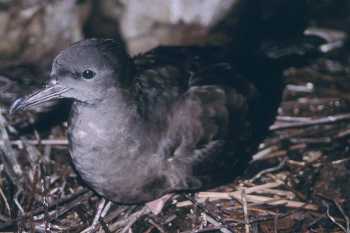 Wedge-tailed Shearwater, photograph by Alan Burger
Little Shearwaters P. assimilis (of the nominate race) were present at Anson Point on Norfolk Island in the 1970s but breeding is now confined to the much smaller and predator-free Phillip and Nepean Islands in the Norfolk Island group (where Wedge-tailed Shearwaters also breed). According to the latest edition of the Australian Action Plan for Birds their disappearance from the main island is thought due to depredation by the island's rats. Flesh-footed Shearwaters P. carnepeis are also thought to breed on Phillip Island in small numbers. In addition, three species of Pterodroma petrels breed on Phillip Island.
Norfolk Island (35 km2) is an external territory of the Commonwealth of Australia. It has a human population of 2300. The 6.5-km²forested Norfolk Island National Park centred on Mount Pitt was declared in 1985; it includes Phillip Island (added in 1996).
With thanks to Barry Baker for information.
Selected Literature:
Director of National Parks 2008. Norfolk Island National Park and Norfolk Island Botanic Garden Management Plan 2008-2018. Canberra: Department of the Environment, Water, Heritage and the Arts. 96 pp.
Director of National Parks. 2010. Norfolk Island Region Threatened Species Recovery Plan. Canberra: Department of the Environment, Water, Heritage and the Arts. 183 pp.
Garnett, S.T., Szabo, J.K. & Dutson, G. 2011. The Action Plan for Australian Birds 2010. Collingwood: CSIRO Publishing. 456 pp.
Priddel, D., Carlile, N., Evans, O., Evans, B. & McCoy, H. 2010. A review of the seabirds of Phillip Island in the Norfolk Island Group. Notornis 57: 113-127.
Tarburton, M.K. 1981. Seabirds nesting on Norfolk Island. Notornis 28: 209-211.
John Cooper, ACAP Information Officer, 16 December 2014