The Eleventh Session of the Western and Central Pacific Fisheries Commission (WCPFC) is being held this week in the Faleata Sports Complex, Apia, Samoa. Click here for the meeting's agenda.
A change proposed by the USA (WCPFC11-2014-DP01) to the current Conservation and Management Measure for Mitigating Impacts of Fishing on Seabirds (CMM 2012-07) aims to remove the current exemption for vessels less than 24 m in length in the North Pacific from the requirement to use seabird bycatch mitigation measures in areas north of 23° North latitude from 1 January 2017.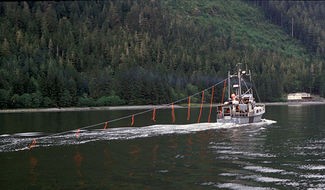 A small North Pacific longliner trails a bird-scaring line, photograph by Ed Melvin
Reference:
Unites States of America 2014. Revisions to CMM 2012-07 Conservation and Management Measure to Mitigate the Impact of Fishing for Highly Migratory Fish Stocks on Seabirds. WCPFC11-2014-DP01. 7 pp.
John Cooper, ACAP Information Officer, 02 December 2104