The latest issue of the annual journal, Sea Swallow, published by the Royal Naval Birdwatching Society, carries an article on research conducted in the northern summer of 2014 on the ACAP-listed and Critically Endangered Balearic Shearwater Puffinus mauretanicus.
The paper's introduction follows:
"For the last eight years a dedicated team of UK scientists, conservationists and seabird enthusiasts have contributed to a programme of research and conservation focused on the Critically Endangered Balearic Shearwater and other migratory seabirds. This programme has two main components: the 'Sea Watch SW' project, which involved collection of land- and boat-based data from UK waters between 2007 and 2011 (see www.seawatch-sw.org), and the ongoing 'Project Shearwater', which involves work at Balearic shearwater breeding colonies in the Mediterranean and tracking of the birds at sea throughout the year. For an overview of 2013 Project Shearwater activities, and links to reports from earlier years, see http://www.birdguides.com/webzine/article.asp?a=3925."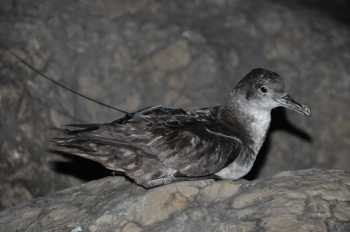 A Balaeric Shearwater carries a satellite tracker with its aerial visible
Photograph by Henri Weimerskirch
Reference:
Wynn, R. 2014. Balearic Shearwater – Project Seawatch SW and Project Shearwater 2014 update. Sea Swallow 63: 35-38.
[Note: this publication is not as yet on-line]
John Cooper, ACAP Information Officer, 06 December 2014