7he BirdLife Pacific Partnership e-bulletin of 22 October reports on a Tropical Shearwater Puffinus bailloni seemingly downed by lights on Yaqaga Island, Vanua Levu, Fiji in the Pacific Ocean, the first time the species has been recorded on that island. The species is not known to breed in Fiji.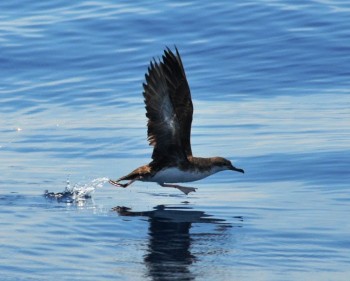 Tropical Shearwater, photograph by Tim Stenton
"In July a newly-recognised seabird was found on Yaqaga Island, in the Bua Province on Vanua Levu. The seabird, a Tropical Shearwater (Puffinus bailloni) was found hanging from a tree by a local villager. It was the first time he had seen the bird and was clearly different from the other seabirds that he was used to seeing while fishing out at sea. "We have been noticing the seabird for some time now right after some families had started setting up solar powered lights in their homes; it would be seen and heard flying across the village late into the evening; for almost two months until its fatal incident when it collided onto a tree branch" the local villager said.
Sialesi Rasalato BirdLife Pacific's Technical Officer who identified the shearwater, said although, this species can be seen at sea throughout Fiji's waters (and elsewhere in the Pacific) it is not known if it breeds in Fiji, currently the nearest known breeding colony is in Tonga. People from the village the shearwater was found at reported that historically they knew of birds that lived in burrows on the island, but they had not been seen in recent years, Sia said.
Tropical Shearwaters occur in the Pacific and Indian Oceans. Previously considered a race of the Audubon Shearwater [P. lherminieri] they were recognised as a full species by BirdLife as recently as August this year! They nest in small burrows and crevices on islands and while they are considered numerous particularly in the Phoenix and Line Islands (Kiribati) the species is likely in decline. Like many of their petrel and shearwater relatives breeding sites are threatened by invasive alien species particularly rats and feral cats which are common throughout the Pacific islands."
John Cooper, ACAP Information Officer, 07 December 2014