A New Zealand NGO, Forest & Bird, is holding a competition to choose the country's most popular seabird. "Vote for your favourite New Zealand seabird. Our seabirds are sensational and New Zealand is a seabird superpower. More than one-third of the world's seabird species spend at least part of their lives above or on New Zealand waters. Thirty-six of those only breed here. But tragically more than half of those are threatened with extinction."
At the time of writing votes have been posted for 31 New Zealand seabirds, of which seven species are albatrosses and petrels listed by ACAP.
The most popular ACAP-listed species in the competition is currently the Vulnerable Salvin's Albatross Thalassarche salvini which is being championed by its Campaign Manager Igor Debski (Marine Species and Threats, Department of Conservation and New Zealand delegate at recent ACAP meetings). His campaign states "classified as nationally critical, Salvin's albatross are one of our most at risk seabirds from bycatch in New Zealand fisheries. The largest colony is found on Proclamation Island in the Bounty Islands of New Zealand"
Igor writes to ACAP that his colleague Katherine Clements has written a sonnet in support of his campaign – and encourages ACAP Latest News readers to vote for "his" bird.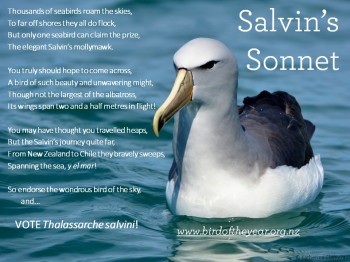 Thousands of seabirds roam the skies,
To far off shores they all do flock,
But only one seabird can claim the prize,
The elegant Salvin's mollymawk.
You truly should hope to come across,
A bird of such beauty and unwavering might,
Though not the largest of the albatross,
Its wings span two and a half metres in flight!
You may have thought you travelled heaps,
But the Salvin's journey quite far,
From New Zealand to Chile they bravely sweeps,
Spanning the sea, y el mar!
So endorse the wondrous bird of the sky,
And VOTE Thalassarche salvini!
The competition does have a serious side: Forest & Birds works to conserve New Zealand's seabirds, including those ACAP-listed species affected by fishery practices, through its Save our Seabirds campaign. The Seabird of the Year competition gives voters the opportunity to donate towards Forest & Bird's work with seabirds.
Voting closes on the 24th of November. ALN will report on the winning species once the competition is over. So far the competition is being led by the Fairy Tern Sternula nereis, New Zealand's rarest breeding seabird.
With thanks to Igor Debski for information.
John Cooper, ACAP Information Officer, 05 November 2014