Pink Floyd was an English rock band formed in London in 1965. In 1970 the band released "Echoes", a composition that includes "instrumental passages, sound effects and musical improvisation".
The lyrics of Echoes, written by band member Roger Waters, commence with an albatross hanging "motionless upon the air", although the words that follow seem to refer more to under the ocean than above it.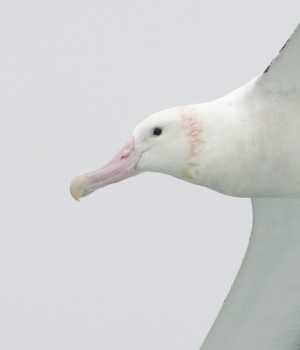 Wandering Albatross, photograph by John Chardine
Lyrics of Echoes by Pink Floyd
Overhead the albatross
Hangs motionless upon the air
And deep beneath the rolling waves
In labyrinths of coral caves
An echo of a distant time
Comes willowing across the sand
And everything is green and submarine.
And no one called us to the land
And no one knows the where's or why's.
Something stirs and something tries
Starts to climb toward the light.
Strangers passing in the street
By chance two separate glances meet
And I am you and what I see is me.
And do I take you by the hand
And lead you through the land
And help me understand
The best I can.
And no one called us to the land
And no one crosses there alive.
No one speaks and no one tries
No one flies around the sun....
Almost everyday you fall
Upon my waking eyes,
Inviting and inciting me
To rise.
And through the window in the wall
Come streaming in on sunlight wings
A million bright ambassadors of morning.
And no one sings me lullabyes
And no one makes me close my eyes
So I throw the windows wide
And call to you across the sky....
Click here to listen to Echoes.
Pink Floyd achieved international acclaim with their progressive and psychedelic music. "Distinguished by their use of philosophical lyrics, sonic experimentation, and elaborate live shows, they are one of the most commercially successful and musically influential groups in the history of popular music."
Click here to listen to the instrumental "Albatross" by Peter Green of the band Fleetwood Mac, first performed in 1969 – only one year earlier than Echoes but a very different composition. Compare them and see what you think.
John Cooper, ACAP Information Officer, 26 October 2014