The Kaua'i National Wildlife Refuge Complex on the USA's Hawaiian island of Kaua'i is comprised of the Hanalei, Hulē'ia and Kīlauea Point National Wildlife Refuges. This month as part of the USA's National Wildlife Refuge Week the refuge complex is celebrating the completion of Kaua'i's first predator-proof fence on the slopes of Nīhoku (Crater Hill) within the complex following a ground-breaking ceremony in June.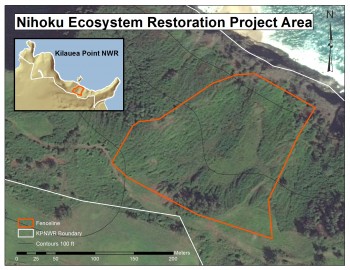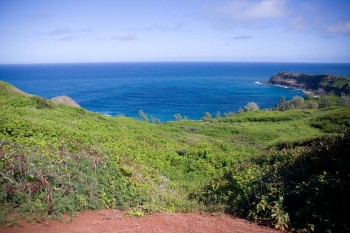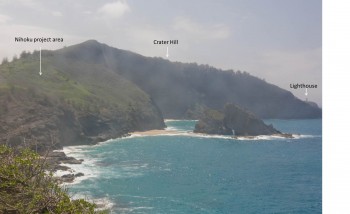 Nihoku Ecosystem Restoration Project site
The fence with a mesh skirt and a rolled hood is the second of its type to be erected in Hawaii. The first Hawaiian predator-proof fence successfully protects ACAP-listed Laysan Albatrosses Phoebastria immutabilis and Wedge-tailed Shearwaters Puffinus pacificus at Kaena Point on the island of Oahu (click here). The 725-m fence on Kaua'i has been designed to keep out introduced mammalian predators such as cats, dogs, mongoose, rats and mice from a 3.1-ha enclosure to protect Laysan Albatrosses which currently breed within it as well as other breeding birds and native plants. The absence of predators (once removed) will make the site suitable for translocations of the Hawaiian-endemic and Endangered Newell's Shearwater P. newelli.
The Kīlauea Point National Wildlife Refuge was established in 1985; in 1988 it was expanded to include Nihoku and Mōkōlea Point.
Partners for the Nihoku Ecosystem Restoration Project include the American Bird Conservancy, the Kaua'i Endangered Seabird Recovery Project (a Hawai'i Division of Forestry and Wildlife/Pacific Cooperative Studies Unit project), Pacific Rim Conservation and the National Fish and Wildlife Foundation.
Read more about the Nihoku Ecosystem Restoration Project and the positive outcome of its environmental assessment. See also http://www.fws.gov/pacific/news/news.cfm?id=2144375292.
John Cooper, ACAP Information Officer, 10 October 2014