The Second Scientific Committee Meeting of the South Pacific Regional Fisheries Management Organisation (SPRFMO) is being held in Honolulu, USA this and next week.
According to the provisional agenda for the meeting it will "[r]eview international best practices in bycatch, incidental catches and mitigation options in pelagic and bottom fisheries, and make appropriate recommendations[, i]ncluding, inter alia, the potential use of trigger limits to manage the incidental catch of seabirds in the SPRFMO Convention Area and advice on implementing, inter alia, the measures contained in Annex 2 of CMM 2.04 (minimising seabird bycatch)."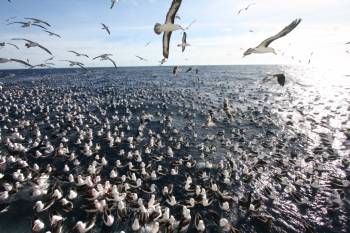 Albatrosses gather behind a trawler, photograph by Graham Parker
The following papers relevant to seabird mitigation are to be presented at the meeting:
Debski, L. & Pierre, J. 2014. Seabird risk and trawler discharge. SC-02-12. 7 pp.
Debski, L. & Pierre, J. 2014. Seabird cryptic mortality and risk from fisheries. SC-02-13. 6 pp.
Debski, L. & Pierre, J. 2014. Observer coverage to monitor seabird captures in demersal longline and trawl fisheries. SC-02-14. 7 pp.
Garcia, M. 2014. Overview of the fisheries and seabird bycatch in Chile. SC-02-19_rev1. 11 pp.
John Cooper, ACAP Information Officer, 02 October 2014