The International Plan of Action for Reducing Incidental Catch of Seabirds in Longline Fisheries (IPOA-Seabirds) was developed by the Food and Agriculture Organization of the United Nations (FAO) in 1998. The plan encourages all FAO member countries to implement their own National Plans of Action (NPOA-Seabirds).
In terms of the IPOA-Seabirds, countries first assess the seabird by-catch problem within their fisheries and/or within their coastal waters. If a bycatch problem is found to exist, each country should then develop and implement its own National Plan of Action (NPOA-Seabirds), based on the recommendations listed in the IPOA-Seabirds.
Following a meeting of its Advisory Committee in Uruguay last month and with input from the delegations of attending Parties, ACAP has updated the list of NPOA-Seabirds and of equivalent and related documents on its web site (click here).
Seven Parties to ACAP (Argentina, Australia, Brazil, Chile, New Zealand, South Africa and Uruguay) have adopted their own plans or equivalent documents. Of the high-seas fishing nations and entities that impact seabirds; Japan and Chinese Taipei have NPOA-Seabirds, as does the European Union. Regular observer nations at ACAP meetings, Canada and the USA have also adopted NPOA-Seabirds. Several of the plans cover trawling as well as longlining and for several updated versions or progress reports are also listed.
Namibia attended the Uruguay meeting as an observer and during a presentation informed it that it had produced its own NPOA-Seabirds, which was now awaiting formal adoption and promulgation of regulations.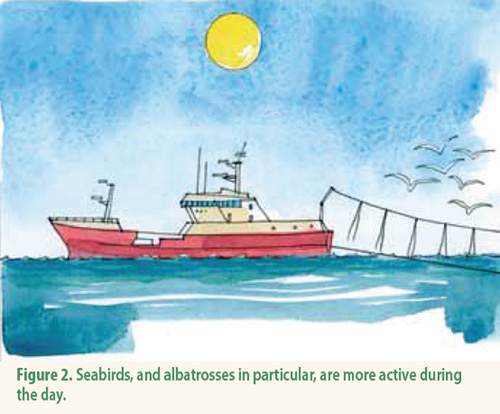 Setting longlines at night (coupled with bird-scaring lines and an adequate weighting regime) reduces mortality of albatrosses and petrels
With thanks to Jorge Azócar R (Chile), John Barrington (Australia), Johannes Holtzhausen (Namibia), Ken Morgan (Canada) and Joost Pompert (United Kingdom) for information.
John Cooper, ACAP Information Officer, 01 October 2014