The Tristan group of islands forms part of the United Kingdom's Overseas Territory of St Helena, Ascension and Tristan da Cunha. The four islands of Tristan, Gough, Inaccessible and Nightingale support three endemic ACAP-listed species: Critically Endangered Tristan Albatross Diomedea dabbenena, Endangered Atlantic Yellow-nosed Albatross Thalassarche chlororhynchos and Vulnerable Spectacled Petrel Procellaria conspicillata. Three other ACAP-listed species also breed: Endangered Sooty Albatross Phoebetria fusca, Near Threatened Grey Petrel Procellaria cinerea and Southern Giant Petrel Macronectes giganteus (Least Concern).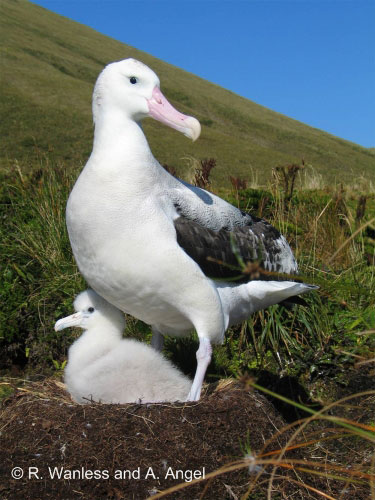 Tristan Albatross with a downy chick, photograph by Andrea Angel and Ross Wanless
The Tristan Conservation Department has recently published on-line an updated biodiversity action plan for the period 2012 to 2106, replacing an earlier version. The biodiversity plan has as its vision to "enable the people of Tristan da Cunha, in partnership with organisations from around the world and particularly in the UK and South Africa, to conserve their globally important and unique biodiversity for the benefit of current and future generations".
The Plan has the following main objectives:
1. Conservation is integrated into all Government programmes, policies and plans (both those of Tristan Government and those of the UK that affect Tristan),
2. Support for biodiversity conservation is strengthened on Tristan,
3. Tristanians have the capacity to manage biodiversity effectively,
4. The impact of invasive alien species is reduced or eliminated,
5. The sustainable use and management of the marine environment is enhanced, and
6. The knowledge of Tristan's key habitats and species is increased.
Important goals among the many of the plan include eradicating Gough's "killer" House Mice Mus musculus that attack Tristan Albatross chicks, monitoring the six ACAP-listed species, and improving biosecurity procedures for all the islands in the group.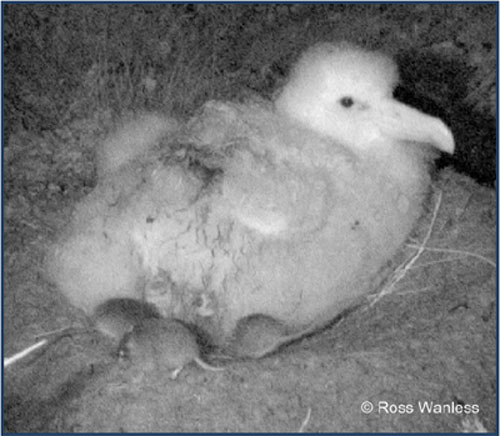 A Tristan Albatross chick is attacked by House Mice at night, photograph by Ross Wanless
This Tristan da Cunha Biodiversity Action Plan (2012‐2016) has been updated as part of the project 'Integrated Biodiversity Management Planning on Tristan da Cunha', funded by the UK Overseas Territories Environment Programme (OTEP). The work is carried out in collaboration between the Tristan Conservation Department, the Tristan Government and the Royal Society for the Protection of Birds (RSPB).
Click here to access other on-line conservation documents for the Tristan islands.
Reference:
Tristan da Cunha Government & RSPB 2012 [2014]. Biodiversity Action Plan for the Tristan da Cunha Islands (2012‐2016). Edinburgh of the Seven Seas, Tristan da Cunha, South Atlantic: Tristan Conservation Department. 77 pp.
John Cooper, ACAP Information Officer, 18 September 2014