The NGO Oikonos - Ecosystem Knowledge has produced an on-line teaching package to inform young students of the threats albatrosses face (click here). The package is made up of five lessons entitled Introduction to Seabirds; Tracking Albatross Migrations; Protecting Ocean Hotspots; Bolus Analysis; and Campus Debris Survey.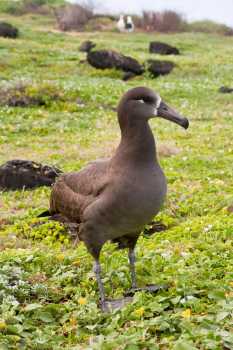 Black-footed Albatross, photograph by Lindsay Young
Each lesson includes:
Lesson plan with learning objectives and procedures; an outline of necessary materials and preparation; time estimates; suggested discussion questions and possible answers; ideas for differentiating activities for diverse learners; expanded resources, videos and links; student worksheets and handouts for photocopying and/or projecting; presentations with photos, art, wildlife research data; and teacher presentation notes to support the lesson.
The activity package was produced by Oikonos - Ecosystem Knowledge and Meghan Marerro in collaboration with the Cordell Bank National Marine Sanctuary and the Papahānaumokuākea Marine National Monument.
Click here to download the activity package.
John Cooper, ACAP Information Officer, 21 August 2014