Back in 2012 ACAP Latest News reported on the Kellian Line Setter, an underwater setting device initially developed by New Zealander Dave Kellian to mitigate seabird bycatch in demersal (bottom) longline fisheries (click here).
Sea trials on board a 10-m bottom longliner have been taking place since then as reported earlier this year to the New Zealand Department of Conservation's Conservation Services Programme. Trials were conducted off New Zealand and have led to further suggestions for improvement to the device: "[t]he developments outlined … may be best achieved by taking the setter back to the Australian Maritime College where modifications could be made and subsequent performance assessed in the flume tank. Ideally the setter could then be briefly taken to sea in Australia to confirm that the results from the flume tank can be then be achieved behind a vessel at speeds of 5 ‐ 6 knots. Further development in the flume tank would also provide the opportunity to fine tune the funnel shape and paravane settings to optimise performance, prior to continuing further sea trials in New Zealand where operational performance and workability of the setter can be assessed under normal fishing conditions."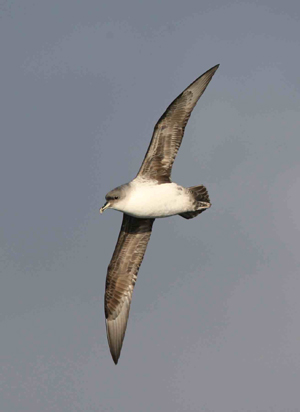 Grey Petrel at sea - and at risk to longliners, photograph by Peter Ryan
Reference:.
Baker, G.B., Goad, D., Kiddie, B. & Frost, R. 2014. Kellian Line Setter Sea Trials Initial Performance Testing. Report prepared for Department of Conservation Contract 4529 [Kettering]: Latitude 42 Environmental Consultants Pty Ltd. 7 pp.
John Cooper, ACAP Information Officer, 15 August 2014