"The American Bird Conservancy (ABC) is the only conservation group whose sole mission is to conserve native wild birds and their habitats throughout the Americas. The ABC accomplishes its mission through direct action and by engaging the people, groups, resources, and strategies needed to succeed. It undertakes the full spectrum of bird conservation issues using advocacy and habitat conservation strategies.
ABC's Seabird Conservation Programme advances the organization's mission by:
1. developing solutions to threats facing the oceanic birds of the Americas;
2. informing and educating policy-makers and resource managers about seabird conservation needs and solutions; and
3. influencing government agencies and multilateral institutions regarding policy, resource allocation, and international conventions that affect seabirds."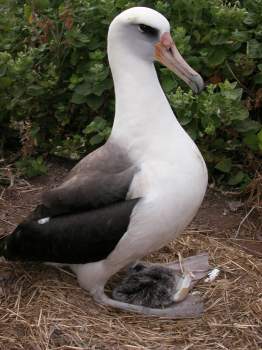 A Laysan Albatross hatches its egg on Mexico's Clarion Island, photograph by Ross Wanless
"The ABC is seeking a dynamic conservationist with the drive and entrepreneurial spirit to develop programmes and advance policies that will make a difference for seabirds. The Seabird Program Director is responsible for implementing an ambitious strategic plan for seabird conservation in the Americas; developing and implementing on-the-ground conservation projects to counter threats faced by the hemisphere's imperilled seabirds; developing capacity in partner organizations abroad; reaching out to US and foreign governments and helping to ensure adequate funding for the programme."
Contact This email address is being protected from spambots. You need JavaScript enabled to view it. for more information, including deadline (7 July) and application details.
John Cooper, ACAP Information Officer, 17 June 2014