SAFRING Metal band 9A 69153 was placed on a Southern Giant Petrel Macronectes giganteus chick in the monitoring colony below Low Hump on Gough Island's west coast on 30 November 2013. On 18 May this year Josã Carlos Alonso Ruibal reported the bird to the South African Bird Ringing Unit as having been found dead on Karekare Beach, 35 km west of Auckland on New Zealand's North Island 169 days after banding (click here). The date of actual fledging of the chick is not known although it was still present at its nest site on 18 December 2013.
Juvenile Southern Giant Petrels are known to undertake large movements from their breeding grounds. In contrast adults breeding at Gough appear to stay in the South Atlantic.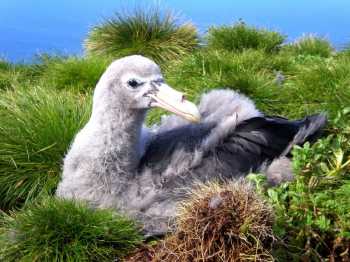 A Southern Giant Petrel chick on Gough Island, photograph by Michelle Steenkamp
Perhaps related to this recovery is that the New Zealand Bird Rescue Charitable Trust based in Auckland has this month taken into care three Northern Giant Petrels M. halli. The trust comments it is unusual to have as many as three at a time. Photographs posted to the trust's Facebook page suggest the birds are all recently fledged juveniles. A Northern Giant Petrel brought in on 23 May is also being looked after in Ballina, New South Wales, Australia by Australian Seabird Rescue.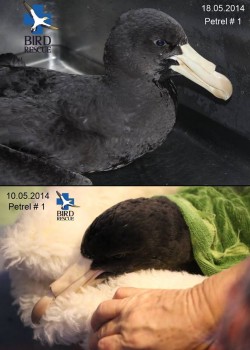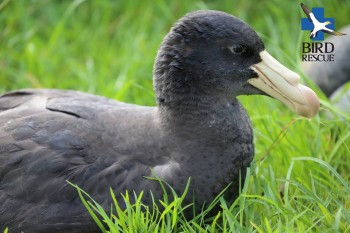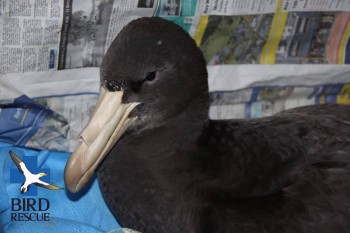 The three rescued Northern Giant Petrels under care in New Zealand
With thanks to Ben Dilley and Dane Paijmans for information.
Selected Literature:
Cooper, J. 1983. Bird ringing at Gough Island, 1977-1982. South African Journal of Antarctic Research 13: 47-48.
Cooper, J. & Parker, G.C. 2011. Observations of sexual dimorphism among the Southern Giant Petrels Macronectes giganteus of Gough Island. Sea Swallow 60: 84-90.
Cuthbert, R.J., Cooper, J. & Ryan, P.G. 2013. Population trends and breeding success of albatrosses and giant petrels at Gough Island in the face of at-sea and on-land threats. Antarctic Science 26: 163-171.
Patterson, D.L. & Hunter, S. 2000. Giant petrel Macronectes spp. band recovery analysis from the International Giant Petrel Banding Project, 1988/89. Marine Ornithology 28: 69-74.
John Cooper, ACAP Information Officer, 29 May 2014