Hisashi Sugawa (Bird Banding Association, c/o Bird Migration Research Center, Yamashina Institute for Ornithology, Chiba, Japan) and colleagues have published in the open-access journal Marine Ornithology on breeding site fidelity in Streaked Shearwaters Calonectris leucomelas.
The paper's summary follows:
"Site fidelity of Streaked Shearwater Calonectris leucomelas on Kanmurijima Island, Sea of Japan (35°40'N, 135°26'E) was analyzed based on a 27-year banding record from 1984 to 2010. Two study sites were set in this colony, and return fidelity to the initial release site was assessed. Most returns occurred at sites where they had been released. Only small percentages (0.7% and 0.2%) of the returns were recorded in the other study sites. Site fidelity was further analyzed using a 10 m × 10 m grid at one study site. Returning birds showed high site fidelity. The rate of returns within 10 m of the release place among the total returns was defined as the site fidelity index. Based on a total of 4154 returns, the index was calculated to be 0.73. The index was almost unchanged with increasing duration between the first release and the return. Even after 20 years, birds returned to the vicinity of the initial release site. The annual change in the index fluctuated from 0.54 to 0.81, with a slight increase during the most recent study period."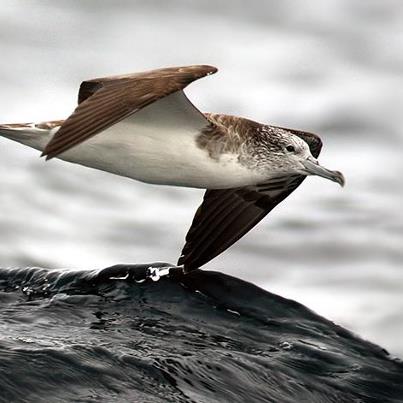 Streaked Shearwater
Reference:
Sugawa, H., Karino, K., Ohshiro, A. & Hirai, M. 2014. Long-term trends in breeding site fidelity of Streaked Shearwater Calonectris leucomelas. Marine Ornithology 42: 11-15.
John Cooper, ACAP Information Officer, 19 May 2014