Albatross PhD student Jamie Cleeland writes at the end of last month from Australia's Macquarie Island:
"Resupply is coming and the station is buzzing! With all 41 expeditioners back on station there are many preparations to be made for the L'Astrolabe, which is expected to arrive any day now. Despite the increased workload (including cleaning, fixing, packing and more cleaning) that the trade staff has faced this week, they have still found time to help out a Macca local in need.
Earlier in the season albatross researchers Jaimie and Kate noticed a light-mantled albatross (or 'Sooty') [Phoebetria palpebrata] had built its nest directly under the station water pipe. Over the season they monitored its health, watching the adults incubate and then coming and going, feeding its young chick. Now the chick is starting to show adult feathers and is flapping its wings in preparation for its first flight out to sea. Taking a leap into the air for the first time is fraught with danger, even more so if a water pipe is blocking your passageway to the ocean.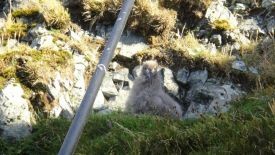 The albatross chick and the water pipe before translocation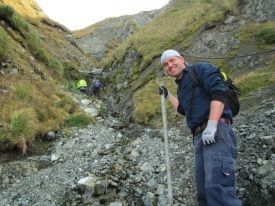 Climbing Gadgets Gully to the albatross nest, with the water pipe on the right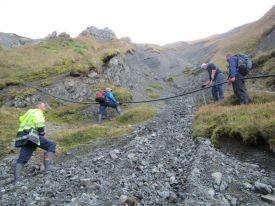 Moving the water pipe away from the albatross nest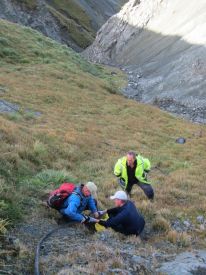 Rejoining the pipe
So on Monday, after all the necessary paperwork had been completed, Josh (the plumber), Dave (the specialist tradesman), Kris and Chris (the long and the short of the ranger team) and myself headed up Gadgets Gully to begin the clearing runway for Albatross Project. A quick planning meeting was had onsite, where different options for pipe relocation were presented. It was unanimously decided that we cut the pipe above the nest, insert a new section and divert the pipe around to the south of the bluff the nest was on. This procedure took our expert plumber only a few minutes to cut, move and join the heavy pipe, leaving the albatross runway unobstructed. A few supporting pickets were put in place to ensure the pipe would not disturb any wildlife in the future. In the sunshine we headed back down Gadgets Gully happy that the little chick had every chance to fledge successfully."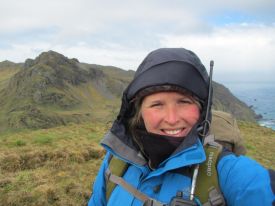 With thanks to Jaimie Cleeland (pictured above) for permission to republish her account (click here) and use her photographs. Her project is entitled "Environmental and anthropogenic influences on population and demographic status and trends on four species of Southern Ocean Albatross." View her photographs of Macquarie's albatrosses here.
Albatross research on Macquarie Island is managed and operated by an all-woman team: Rosemary Gales and Rachael Alderman as Chief Investigator and Co-investigator, respectively, based in Hobart and Jaimie and Kate Lawrence as the field team on the island. Click here for an earlier news story by Kate on working with Macca's albatrosses.
John Cooper, ACAP Information Officer, 04 April 2014