The 41st Annual General Meeting of the Pacific Seabird Group was held in Juneau, Alaska in February this year (click here). Abstracts of presentations given at the meeting on ACAP-listed albatrosses of the North Pacific, as well as on petrels and shearwaters, are listed by authors and title below.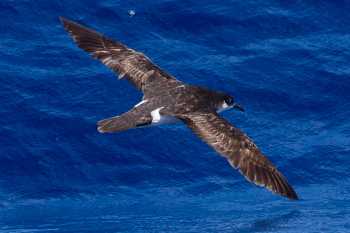 Newell's Shearwater, photograph by Eric Vanderwerf
Tracy Anderson. Saving Newell's Shearwaters-35 years of rehabilitation and release on Kaua'i
Cathleen Bailey, Joy Tamayose, Raina Kaholoaa, Steve Orwig, Kelly Goodale & Matt Brown. Construction effects and video results for Hawaiian Petrels
Shane Baylis, Colin Miskelly, Alan Tennyson, Sue Waugh, Sandy Bartle & Stuart Hunter. Causes of seabird mortality in the immediate aftermath of the Rena oil spill, Bay of Plenty, New Zealand
Dave Cowan, Mitchell Craig, Gregory Spencer, David Ainley & David Zajanc. An attempt to prevent the disappearance of Hawaiian Petrels (Pterodroma sandwichensis) and Newell's Shearwaters (Puffinus newelli) from west Maui, Hawaii
Danielle Fife, Ingrid Pollet, Gregory Robertson, Mark Mallory & Dave Shutler. Apparent survival of adult Leach's Storm-petrels (Oceanodroma leucorhoa) breeding on Bon Portage Island, Nova Scotia
Shannon Fitzgerald, Jennifer Cahalan, Jason Gasper & Jennifer Mondragon. Preliminary estimates of seabird bycatch in the Alaskan halibut longline fishery in 2013 [Black-footed Phoebastria nigripes and Laysan P. immutabilis Albatrosses]
Britta Hardesty & Christopher Wilcox. A multiple marker approach to identifying origins for unknown provenance seabirds caught as by-catch in fisheries [Flesh-footed Shearwater Puffinus carneipes]
Yukiko Inoue, Sayaka Nakatsuka, Daisuke Ochi, Nobuhiro Katsumata, Yasuaki Niizuma & Hiroshi Minami. Quantifying diet of Laysan and Black-footed Albatrosses and the effect to their body condition using stable isotope analysis
Megan Laut & Adam Vorsino. Using landscape models to prioritize areas for Newell's Shearwater conservation
Daisuke Ochi, Hiroshi Minami, Takuto Kimura, Muneyoshi Eto & Ippei Fusejima. Migratory patterns of Laysan and Black-footed Albatrosses staying at the western Pacific through satellite tracking survey
Nariko Oka. The sense of wonder for the foraging hotspots of migrant shearwaters in the northwestern Pacific
David Pereksta, Josh Adams, Michelle Hester, Jay Penniman, Lindsay Young & André Raine. Habitat affinities and at-sea ranging behaviors among main Hawaiian Island seabirds
André Raine, Brooke McFarland & Matthew McKown. When a seabird calls in the forest and no ornithologist is around to hear it - does a song meter record its sound? [Newell's Shearwater Puffinus newelli and Hawaiian Petrel Pterodroma sandwichensis]
Ernst Rupp, Esteban Garrido, Holly Freifeld, Adam Brown & James Goetz. Monitoring Black-capped Petrels (Pterodroma hasitata) nesting at Morne Vincent, Haiti and Loma del Toro, Dominican Republic
Wayne Sentman, A.E. Vo, Myra Finkelstein, Scott Edwards, Heidi Auman & Michael Bank. Pollution canary - albatross as sentinels of marine pollution
Lesley Thorne, Scott Shaffer, Elliott Hazen, Steven Bograd, David Foley & Melinda Connors. Effects of oceanographic variability on the reproductive success and habitat use of Laysan and Black-footed Albatrosses
Andrew Titmus, Christopher Lepczyk & Suzanne Dauphine. Distribution of Tahiti Petrel and Herald Petrel on Ta'u Island, American Samoa
William Walker, Shannon Fitzgerald & Erica Donnelly-Greenan. The diet of Northern Fulmars, Fulmaris glacialis, in the eastern Bering Sea and Aleutian Islands region: an exercise in the use of by-caught marine birds in investigations of natural feeding strategy
Takashi Yamamoto, Akinori Takahashi , Nariko Oka, Masaki Shirai, Maki Yamamoto & Nobuhiro Katsumata. Inter-colony differences in the incubation pattern of Streaked Shearwaters in relation to the local marine environment
Ai Yamashita, Yutaka Watanuki, Yoshinori Ikenaka, Takashi Yamamoto, Yasuaki Niizuma & Richard Phillips. Wintering area and mercury in the feather of Short-tailed Shearwater
Lindsay Young, Jessica Behnke, George Wallace, Kimberly Uyehara, Shannon Smith & André Raine. Planning for Kauai's first predator proof fence at Kilauea Point National Wildlife Refuge [Newell's Shearwater Puffinus newelli]
Stephani Zador (Seabird Program, NOAA Alaska Fishery Sciences Center) presented the opening plenary address to PSG41 entitled "Ecosystem-based management in Alaska: the role of seabirds as indicators of ecosystem change" (click here to view her presentation)
With thanks to Kim Rivera for information.
John Cooper, ACAP Information Officer, 19 April 2014