Meeting Location and Dates
The Eighth Meeting of ACAP's Advisory Committee (AC8) will be held from Monday, 15 September to Friday, 19 September 2014, at the Barradas Hotel, Punta del Este, Uruguay (click here for the meeting's first circular).
Meetings of the Advisory Committee's Population and Conservation Status Working Group (PaCSWG) and Seabird Bycatch Working Group (SBWG) will precede AC8. These meetings will also be held at the Barradas Hotel, from Monday 8 to Tuesday 9 September (PaCSWG), and Wednesday 10 to Friday 12 September (SBWG).
A Heads of Delegation meeting will be convened on Sunday, 14 September 2014 in the evening. The time and venue for this meeting will be advised closer to the meeting date.
Meeting Documents
Meeting documents requiring translation are to be submitted to the Secretariat no later than 15 July 2014 in order that they may be distributed in the three official languages 30 days in advance of the meeting. It would assist the operation of the meeting if papers were submitted as early as possible in advance of this date. All AC8 information papers must be submitted by 1 August 2014. Meeting documents for Working Group meetings must also be submitted by 1 August 2014. Meeting documents will not be accepted after this date.
It would be appreciated if participants could advise the Secretariat of any papers that they intend submitting to the meeting as soon as possible.
Applications for Observer Status
International bodies wishing to participate in the Advisory Committee meeting must
submit a written application to the Secretariat by 17 June 2014. Applications from other bodies wishing to attend this meeting must submit a written application by 15 July 2014.
Reservation of Accommodation
A block booking of 45 rooms has been made for the meetings at a substantial discount to normal rates: 26 x standard rooms @ USD90, 10 x deluxe rooms @ USD117, and 9 x classic suites @ USD147.00. Delegates are encouraged to make their reservations as early as possible to ensure access to rooms at these prices. Note that alternative accommodation may be difficult to find, particularly during AC8, due to public holidays falling in this period. When making a reservation please quote a promotional code (to be available shortly) to access the ACAP booking.
Information on registration and other meeting arrangements will be provided in Meeting Circular No 2.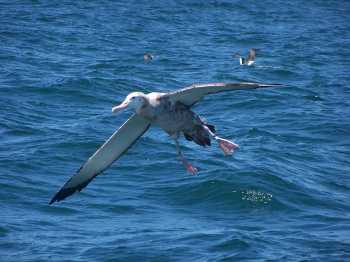 A Tristan Albatross flies by in waters off Uruguay, photograph by Martin Abreu
Warren Papworth, ACAP Executive Secretary & Marco Favero, Chair, ACAP Advisory Committee, 07 March 2014