WWF's International Smart Gear Competition, launched in 2004, brings together the fishing industry, research institutes, universities and government to inspire and reward practical, innovative fishing gear designs that reduce bycatch - the accidental catch and related deaths of sea turtles, birds, marine mammals, cetaceans and non-target fish species in fishing gear such as longlines and nets.
"Designed to inspire creative thinkers, Smart Gear is a call for innovative ideas that have practical applications for fishing "smarter"—for increasing selectivity for target fish species and reducing bycatch. The competition invites submissions of practical, cost-effective solutions to reduce fisheries bycatch, and offers cash prizes totaling US$65,000."
The individual prizes are a Grand Prize of $30 000, two runner-up prizes of $10 000, as well as $7500 as a Special Tuna Bycatch Reduction Prize that identifies a solution to reduce the amount of bycatch found in both purse seine and longline tuna fisheries in the waters of the Western and Central Pacific Fisheries Commission, and $7500 as a Special Marine Mammal Bycatch Reduction Prize.
Competition judges include Svein Løkkeborg, International Marine Research, Norway and Ed Melvin, Washington Sea Grant, USA; both of whom have been involved with research aimed at mitigating seabird mortality by fishing vessels.
The competition opened on the first of March with an entry deadline of 31 August. Click here for the competition entry rules. After the prizes are awarded, WWF will work with each of the winners to bring their ideas to life and see them implemented in fisheries around the World.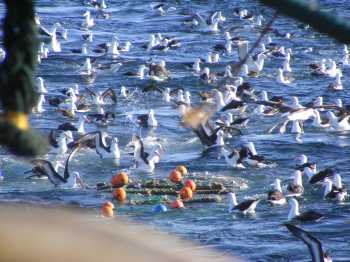 At risk: Black-browed Albatrosses attempt to scavenge behind a trawler
Photograph by Sofia Copello
Past winners have included specially designed lights that reduce the bycatch of turtles in gillnets, and a device to reduce the bycatch of seabirds on tuna longlines (click here).
Find more news of the competition here.
John Cooper, ACAP Information Officer, 05 March 2014