Johan Elmberg (Aquatic Biology and Chemistry, Kristianstad University, Sweden) and colleagues write in Seabird, the journal of the Seabird Group on the numbers of Critically Endangered and ACAP-listed Balearic Shearwater Puffinus mauretanicus and other seabirds seen from a Portuguese headland.
The paper's abstract follows:
"The ecology and movements of seabirds are still inadequately understood, mainly because they can rarely be studied efficiently from land. The potential of Cabo Carvoeiro (Peniche, Portugal) for monitoring seabird movements from land is poorly known internationally, as few results from this site have been published in English. Here we present data from standardised counts in October 2012 and draw attention to recent organised seabird counts in Portugal. Despite unfavourable weather conditions for concentrating seabirds towards land, we observed a strong passage of Northern Gannet Morus bassanus, Cory's Shearwater Calonectris diomedea, Great Skua Stercorarius skua, and Balearic Shearwater Puffinus mauretanicus (mean morning passage of 252, 99, 19, and 21 birds / hour, respectively). Manx Shearwater Puffinus puffinus, Sooty Shearwater P. griseus and Great Shearwater P. gravis occurred regularly in low numbers. Extrapolation indicates that thousands of seabirds passed daily within a few kilometres from land. The high counts of some species and the fairly high species diversity observed by us and in the RAM (Rede de observação de Aves e Mamiferos marinhos) initiative show that Cabo Carvoeiro is an outstanding site for monitoring and studying seabirds in the eastern Atlantic, as it is also located further south in the flyway than most other seawatch points. We hope this note will inspire ornithologists from other countries to participate in standardised seabird counts at Cabo Carvoeiro and other Portuguese sites."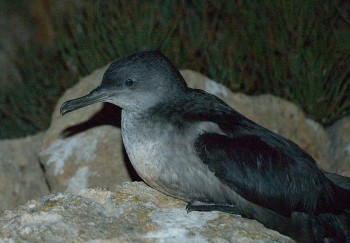 Balearic Shearwater, photograph by Miguel McMinn
Reference:
Elmberg, J., Hirschfeld, E. & Cardoso, H. 2013. Diurnal seabird movements at Cabo Carvoeiro (Peniche, Portugal): observations in early October 2012. Seabird 26: 24-30.
John Cooper, ACAP Information Officer, 09 February 2014