The Critically Endangered Tristan Albatross Diomedea dabbenena is perhaps the most threatened species listed within the Albatross and Petrel Agreement, facing as it does the twin threats of chick predation by mice ashore and longlining mortality at sea (click here). In response BirdLife South Africa has declared the species to be its Bird of the Year for 2014 so as to increase publicity of its plight.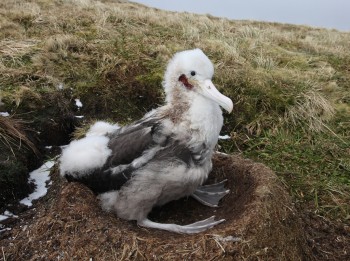 Tristan Albatross chick on Gough Island, a victim of attacks by mice
Photograph by Peter Ryan
"Seabirds, and albatrosses in particular, face a variety of daunting challenges. They are becoming increasingly threatened and at a faster rate globally than any other group of birds. Many declines are closely linked to the expansion of commercial longline fisheries in seabird foraging areas, combined with the impacts of invasive alien species at nesting colonies. The 2012 IUCN Red List reveals that the Tristan Albatross is the only Critically Endangered species that occurs annually in South African territory (including territorial waters). The listing is a result of the bird's extremely small breeding range (it is essentially a single-island endemic) and an exceptionally rapid projected population decline over three generations (70 years). The population is decreasing through a combination of unsustainable deaths from tuna longline fishing and the incredible damage done by predatory, introduced mice at Gough Island, which are laying waste to around half the chicks produced every season. Currently BirdLife South Africa is collaborating with the Percy FitzPatrick Institute at the University of Cape Town, tracking juvenile birds. One of them recently entered South African waters, near Cape Town, and perhaps lucky birders on a pelagic trip could even see this individual in future!"
Other news from South Africa is that Professor John Croxall, Chairman of the BirdLife International's Global Seabird Programme will be the guest speaker at BirdLife South Africa's Annual General Meeting to be held at Mont-aux-Sources in South Africa's Drakensberg Mountains in KwaZulu-Natal on 15 March 2014. John has served on many national and international committees, notably as President of the British Ornithologists' Union and Chairman of Council of the Royal Society for the Protection of Birds (RSPB). He has received numerous awards, including appointment as CBE, election as a Fellow of the Royal Society, and receiving the President's and Godman-Salvin Medals of the British Ecological Society and the BOU, respectively. He is an Honorary Professor at the Universities of Birmingham and Durham, an Honorary Fellow of the American Ornithologists' Union and received the Lifetime Achievement Award from the Pacific Seabird Group in 2008. John Croxall retired from a long and distinguished career studying southern seabirds with the British Antarctic Survey in 2006 but remains active in the conservation and management of seabirds and marine systems, especially with his participation in the Global Seabird Programme, as a member of the High Seas Task Force of the World Conservation Union (IUCN), and as a regular attendee at Sessions of ACAP's Meeting of Parties and its Advisory Committee since 2001.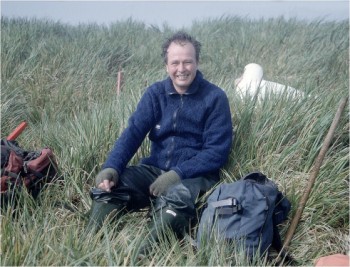 John Croxall conducting field work on Bird Island (with a Wandering Albatross behind)
Immediately before the AGM John and Alison Stattersfield, Head of Science at BirdLife International, will participate in LAB (Learn about Birds), a two-day interactive series of lectures, presentations and discussions co-hosted by BirdLife South Africa and the University of Cape Town's Percy FitzPatrick Institute of African Ornithology.
John Cooper, ACAP Information Officer, 01 February 2014