Pearson, Bruce 2012. Troubled Waters. Trailing the Albatross, an Artist's Journey. Peterborough: Langford Press. 136 pp. 109 illustrations, mainly watercolours and pencil sketches, hardback. ISBN 978-1-904078-48-7. UK£38. www.langford-press.co.uk.
For the few of us who have been privileged to work in the field with albatrosses, this book will resonate. The artist in Bruce Pearson comes out as he writes "[b]eing able to look into the eye of an albatross, feel the extraordinary softness of the feathering round the head and belly, to fold in the 3-4 metre wingspan of a wanderer, catch their oily-scented mustiness and note their every move: these were extraordinarily exciting experiences".
Bruce Person first encountered albatrosses up close when he spent summers on Bird Island in the South Atlantic as a field assistant, working with the late Peter Prince for the British Antarctic Survey in the 1970s. In his spare moments he made sketches of the island's albatrosses and petrels, many of which appear in the book.
Decades later he returned by yacht to the South Atlantic in 2007 to sketch and paint southern albatrosses once more. This trip also yielded double-page watercolours of seascapes and island views. I enjoyed Bruce's treatment of the usually rough seas of the Southern Ocean with a glimpse of a passing seabird, made, as he describes, under often difficult conditions.
With support from BirdLife's Albatross Task Force the author got the opportunity to go to sea off South Africa, first on a demersal trawler in the Atlantic, then on a pelagic longliner in the Indian Ocean. His sketches and text from these two trips are most evocative, and the artwork must be among the very first made "live" at sea aboard fishing vessels by an established artist. The watercolours of fishers processing tuna and swordfish and dealing with shark bycatch well capture what is a hard and gritty way to make a living at sea, as good as or better than photographs could do. No sentimentality here!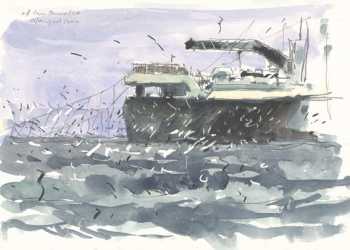 Seabirds, 'tori' lines, and the stern of a trawler off South Africa, August 2010
30 x 42 cm watercolour and pencil by Bruce Pearson
The artist held an exhibition of his work for the book in London late last year and his artwork can be viewed on-line. A limited-edition leather-bound version, each with an original watercolour inside has been produced in aid of BirdLife's Global Seabird Programme.
Interspersed among the illustrations and text are a number of boxes that give useful facts to the reader. Among them are accounts of individual albatross species that accompany pencil sketches made in their colonies, on dynamic soaring, bycatch, the Albatross Task Force and, pleasingly, on the Albatross and Petrel Agreement. For me though the box on the sad outcome of one of "my" Tristan Albatrosses - Yellow H89 from Gough Island - that died after being hooked on a South African longline, along with Bruce's watercolour of its corpse (see Exhibition No. 66), made the biggest impression. So I have illustrated this review with its photograph, taken while incubating at a happier time (click here).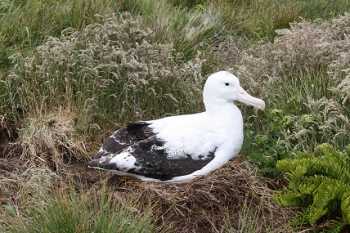 Vale! Tristan Albatross Yellow H89 incubating on Gough in 2010
Photograph by Kalinka Rexer-Huber
The book has a foreword by John Croxall CBE, FRS, Chair of BirdLife International's Global Seabird Programme, who spent decades researching the seabirds of Bird Island, and a preface by Dame Ellen MacArthur DBE, the round-the-world solo sailor who so much admired albatrosses as they flew past her yacht in the Southern Ocean.
Quibbles? Hardly any. I noted only two minor typos that somehow escaped the editorial spell check. The only error I noted is the statement that the KwaZulu-Natal coast of South Africa "is at the extreme edge of the Eastern Atlantic", when the commonly accepted division of the Indian and Atlantic Oceans is set at the continent's most southerly point, Cape Agulhas, some hundreds of kilometres to the south. The book is nicely printed and bound, with a colour dust jacket.
This is a book to cherish, equally for its artwork and for its at-times lyrical writing. If you study albatrosses or are concerned about their continued plight and your non-birdie friends ask you why, just lend them Troubled Waters. That should make them understand.
With thanks to Bruce Pearson.
John Cooper, ACAP Information Officer, 14 January 2013