'Wisdom' (Red Z333), the now 61-year old female Laysan Albatross Phoebastria immutabilis, is back on the USA's Midway Atoll National Wildlife Refuge, incubating an egg in her normal location behind Bravo Barracks on Sand Island.  She was sighted and photographed by Midway's Wildlife Biologist, Pete Leary on 1 December (click here).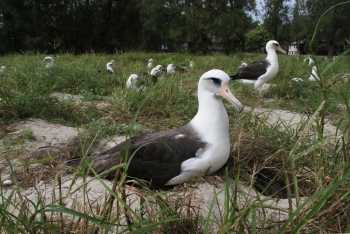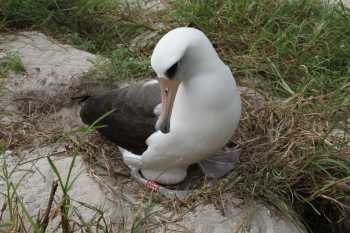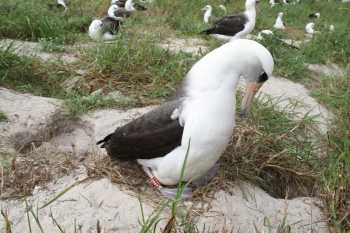 61 years on: Wisdom is back on Midway for the 2011/12 breeding season
Photographs by Pete Leary
Last season her chick survived the Japanese tsunami to be banded and to fledge successfully (click here).
Although an 'old bird', Wisdom has joined the electronic communication age to support conservation through communication and so has her own Facebook page and Twitter account.  Follow her tweets at @WisdomZ333.
Eyes of Wisdom | Time Amongst the Waves can be viewed on Vimeo.  This 4.45 minute clip of still pictures and song is described as "[a]n ocean view of the world through the eyes of Wisdom, a female Laysan Albatross and also the oldest known wild bird in the 90-year history of North American bird banding."
Wisdom has been in regular e-mail contact with ACAP's honorary Information Officer of late.  In her last e-mail to him, received yesterday, she promised to ensure that her unknown partner would be banded when he returnd to share in the incubation.
For more  wildlife news from Midway follow Pete Leary's monthly Blog "Pete on Midway".
Midway Atoll falls within the Northwestern Hawaiian chain of islands and forms part of the Papahānaumokuākea Marine National Monument, which was made a World Heritage Site this year.
With thanks to Pete Leary and Wisdom for information and photos.
John Cooper, ACAP Information Officer, 4 December 2011