In 2006/07 and 2007/08 I spent two summers on Gough, a UK island in the South Atlantic, working on alien plant eradications with small teams of volunteers. As well as this necessary work towards the island's conservation management, we climbed into Gough's mountainous interior to the localities where Critically Endangered (and near-endemic) Tristan Albatrosses Diomedea dabbenena breed – and where their downy chicks were being attacked and killed by the island's introduced House Mice Mus musculus during winter months (click here). In addition to conducting island-wide censuses of incubating birds, we also set up a long-term monitoring study of Tristan Albatrosses in Gonydale, metal and colour banding incubating adults, which we sexed by bill measurements and plumage, and staking and mapping their nests. With a 150 or more nests to visit multiple times to record and band partners over both summers of a biennial breeder in a locality that requires a two-hour climb from the South African weather station we needed to overnight on visits using light-weight geodesic tents, back-packing in all our equipment and supplies.
Ever since these two summers a decade ago annual field teams on Gough have continued to climb to Gonydale to follow the fortunes of the colour-banded birds, re-stake nests, record the presence of eggs and band the few chicks that survived the onslaughts of the mice. Hard, but rewarding work, camping in often cold, wet and windy conditions.
From this coming summer, however, field work will become a little easier by the placement of twin huts in Gonydale during the annual relief of the weather station last month by the South African National Antarctic Programme (SANAP) of the Department of Environment, Forestry and Fisheries. Ben Dilley, of the University of Cape Town's FitzPatrick Institute of African Ornithology, modified a second-hand six-metre shipping container into two field huts in Cape Town, fitting both sections with windows, doors, insulation, wooden bunks (two single beds in each hut), tables and a cooking counter served by gas in one hut. These were shipped to the island on South Africa's Antarctic research and supply ship, the S.A. Agulhas II and flown into the mountains by helicopter, where they were placed side by side and securely tied down with ropes to counter the island's often savage winds.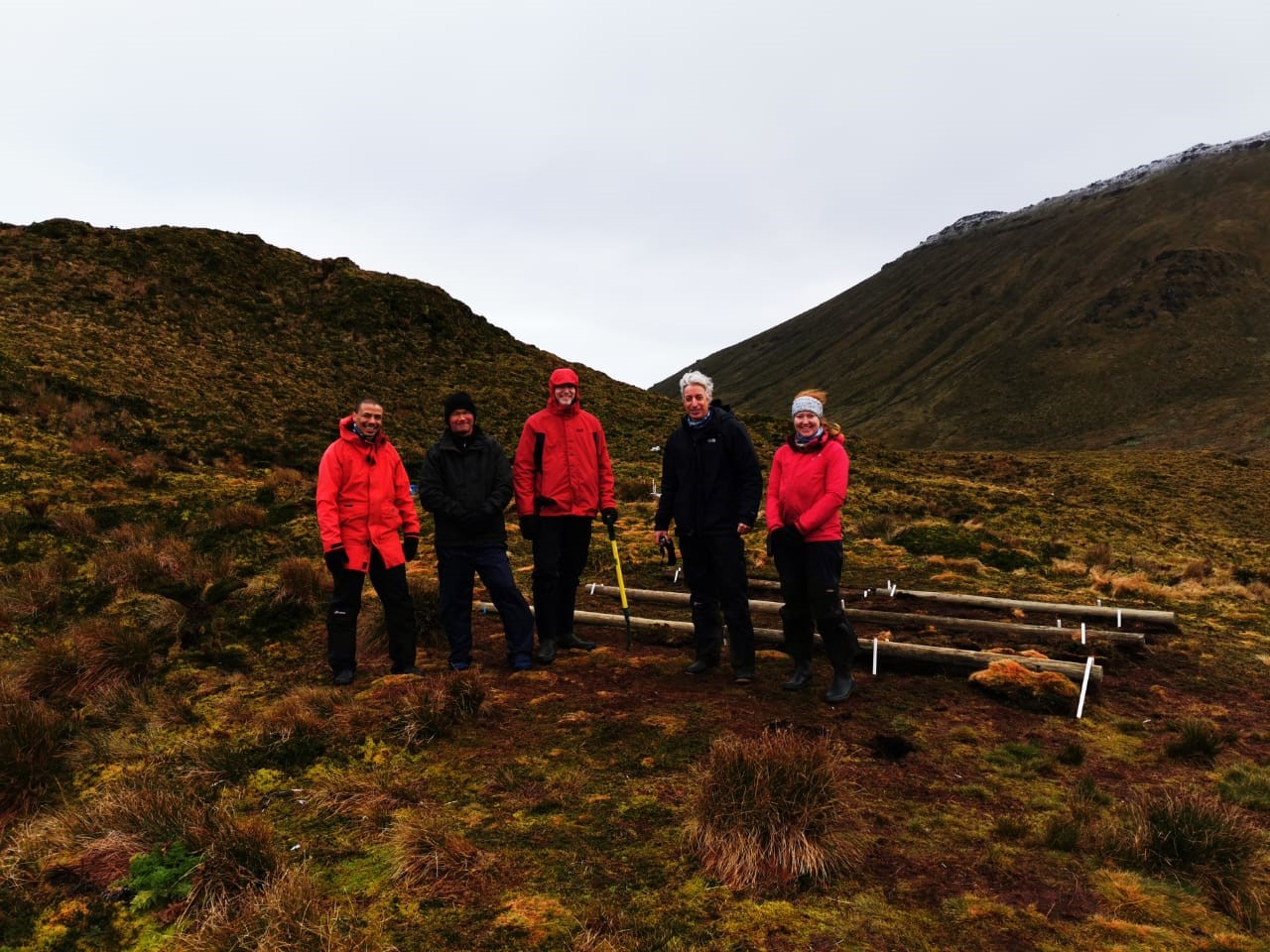 A base for the huts gets prepared in Gonydale, Green Hill (left) and West Rowett behind
From left: Alexis Osborne, Andrew Callender, Chris Jones, Ben Dilley & Michelle Risi
Celebrating completing erection of the Gonydale huts, snow-sprinkled South Rowett behind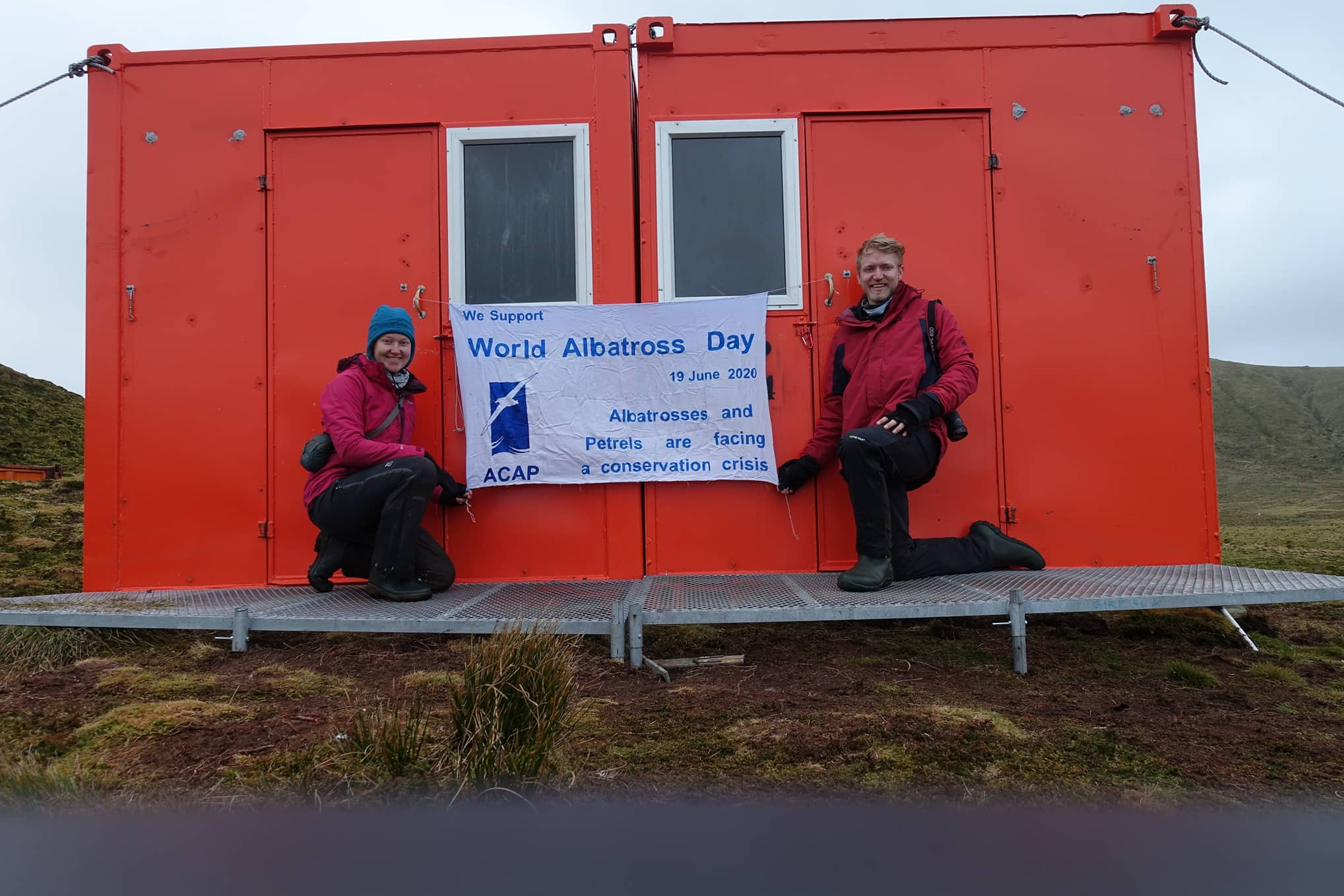 Michelle Risi and Chris Jones display their World Albatross Day banner outside the entrance doors of the Gonydale twin huts, photo by Alexis Osborne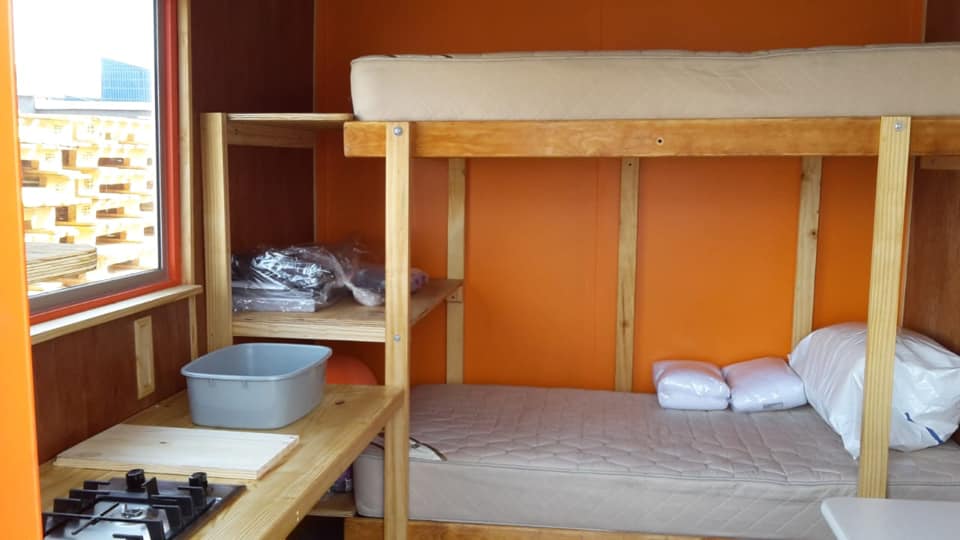 A basic interior but beats camping and outside cooking in the snow!
Field researchers Chris Jones, Alexis Osborne & Michelle Risi (in their second consecutive year on the island as members of South Africa's G65 team) will now be able to overnight in the dry and (relative) warmth while they continue monitoring Gonydale's Tristan Albatrosses. If all goes well 2019/20 will be the last season that the albatross chicks will have to face attacks by mice, as next May poison bait will be dropped by helicopter over the whole island in an ambitious attempt to eradicate them. The huts will also be used when Critically Endangered and endemic Gough Finches Rowettia goughensis are caught to be kept in temporary captivity next year to avoid them being at risk of poisoning along with mice. A decision is expected to be made on how long the huts should remain in Gonydale after the eradication exercise.
With thanks to Ben Dilley and the FitzPatrick Institute for information and photographs. The container huts were funded by the UK's Royal Society for the Protection of Birds (RSPB) as part of the Gough Island Restoration Programme.
Selected References:
Angel, A. & Cooper, J. 2006. A review of the impacts of introduced rodents on the islands of Tristan da Cunha and Gough. RSPB Research Report No. 17. 58 pp.
Caravaggi, A., Cuthbert, R.J., Ryan, P.G., Cooper, J. & Bond, A.L. 2018. The impacts of introduced House Mice on the breeding success of nesting seabirds on Gough Island. Ibis doi.org/10.1111/ibi.12664.
Cuthbert, R., Sommer, E., Ryan, P.G., Cooper, J. & Hilton, G. 2004. Demography and conservation of the Tristan Albatross Diomedea [exulans] dabbenena. Biological Conservation 117: 471-481.
Davies, D., Dilley, B.J., Bond, A.L., Cuthbert, R.J. & Ryan, P.G. 2015. Trends and tactics of mouse predation on Tristan Albatross Diomedea dabbenena chicks at Gough Island, South Atlantic Ocean. Avian Conservation and Ecology 10 (1): 5. http://dx.doi.org/10.5751/ACE-00738-100105.
Ryan, P.G., Cooper, J. & Glass, J.P. 2001. Population status, breeding biology and conservation of the Tristan Albatross Diomedea [exulans] dabbenena. Bird Conservation International 11: 33-46.
John Cooper, ACAP Information Officer, 18 October 2019