Over 180 Endangered Hutton's Puffinus huttoni Shearwater fledglings downed by bright lights have been rescued from roads in and around Kaikoura on New Zealand's South Island so far this breeding season. Following capture the young birds are measured, weighed, banded and released to sea. The fledglings leave their two mountain colonies in the Seaward Kaikoura Range inland of Kaikoura and head towards the ocean but can become attracted to the town's street lights.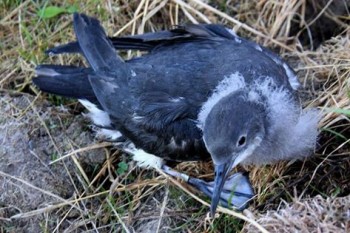 Banded fledgling
Lindsay Rowe of the Hutton's Shearwater Charitable Trust said they were flying down from the mountains and ended up on roads or in gardens. "That's the most we've found for seven or eight years," Rowe said. "We picked up 45 last year, so we've done a lot more already. The wind may have been a factor, getting exhausted battling the southerly."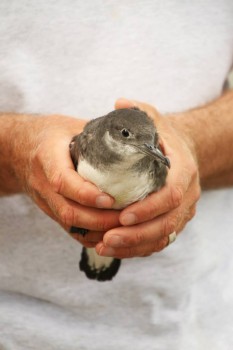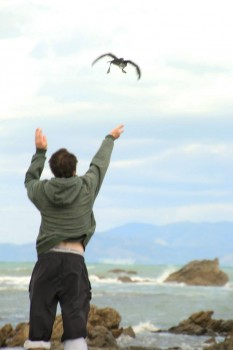 Catch and release
Last year, a banded shearwater fledgling showed up six days later on the New South Wales coast of Australia, near Sydney. Research on Hutton's Shearwaters fitted with geo-locators has revealed details of their winter migration to Australian waters, with birds either completing a clockwise or anti-clockwise circuit of that continent. Young birds remain in Australian waters for 4-5 years before returning to breeding colonies in the Seaward Kaikoura Range.
Della Bennet of the University of Canterbury's Department of Biological Sciences is undertaking MSc research into the foraging areas and behaviour of Hutton's Shearwaters from the translocated Kaikoura Peninsula/Te Rae o Atiu colony as described below.
Understanding seabird diet is vital for conservation management, as food availability is dependent on environmental conditions that can affect the temporal and spatial distribution of prey species and in turn affect breeding and chick rearing. These conditions can lead to a mismatch in resources and cause low growth rates, low fledging success and high chick mortality. To date, very little is known about the diet of the Hutton's shearwater, with previous studies based only on the gut content of dead carcasses.
Monitoring loggers (depth, temperature, wet/dry and time) will assess the daily foraging behaviour of Hutton's shearwater adults from the Kaikoura Peninsula colony. These loggers will allow the construction of an accurate activity budget and maximum diving depth. The data collected by the loggers will be integrated with stable isotope analysis of the bird's feathers and the Kaikoura nearshore food-web (fish and plankton) to investigate the birds' diet."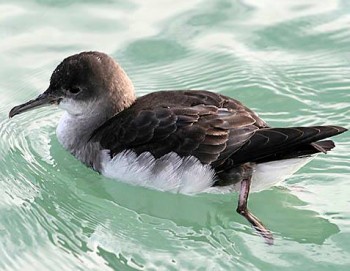 The above information and photographs are taken from recent postings to the Hutton's Shearwater Charitable Trust's Facebook Page
Click here for a media report of the downed fledglings.
John Cooper, ACAP Information Officer, 23 March 2015