The British Ornithologists' Union 2015 Annual Conference with the theme "Birds in time and space: avian tracking and remote sensing" will be held over 31 March to 2 April at the University of Leicester in the UK.
"This conference will highlight the role of telemetry in understanding the ecology and behaviour of free-living wild birds. Continuing advances in instrumentation and miniaturization are rapidly making remote-sensing of movements, activity and physiology available and cost-effective for all but the smallest species. This conference will showcase and consolidate the most recent research arising from these advances, emphasizing the value of telemetry for both testing theory and aiding conservation and management. The advantages of integrated and multifaceted approaches will be a key feature of the conference, as will new developments and opportunities in this rapidly-advancing field."
Rory Wilson (Department of Biosciences, Swansea University) will give the plenary address on "Smart technology on smarter birds: animal-attached systems for difficult questions".
Among the oral presentations to be made six will report on tracking studies conducted on procellariiform seabirds, including on several species of ACAP-listed albatrosses (click here for the abstracts). In addition as well as conventional posters, "talking posters" - short, automated, narrated and unmanned PowerPoint presentations - will run on a continuous loop during breaks in a dedicated screening room.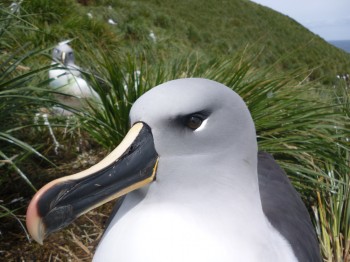 Grey-headed Albatross, photograph by Richard Phillips
Thee six oral papers follow along with their presenting authors.
Thomas Clay: Using habitat-preference models to predict the global non-breeding distributions of albatrosses (Grey-headed Albatross Thalassarche chrysostoma)
José Manuel de Los Reyes González: Annual consistency of foraging grounds depends on spatial scale and population/individual level: the case of Cory's Shearwater in the Canary Current upwelling (Calonectris sp.)
Maria Dias: Using seabird tracking data to identify marine protected areas: does inter-annual variation justify multiple year tracking? (Black-browed Albatross Thalassarche melanophrys [sic] and Cory's Shearwater Calonectris borealis)
James Grecian: Linking remote sensing and geolocation data to understand the impact of climatic change on seabird migration (Broad-billed Prion Pachyptila vittata)
Tim Guildford: 10 years tracking Man [sic] Shearwaters (Puffinus puffinus)
Richard Phillips: Incidence and implications of individual variation in movement and at-sea activity patterns of seabirds (albatrosses)
John Cooper, ACAP Information Officer, 06 March 2015