The licensed longline fishery for Patagonian Toothfish Dissostichus eleginoides in the French Exclusive Economic Zone (EEZ) around the sub-Antarctic Kerguelen Islands has reported to the Working Group on Fish Stock Assessment (WG-FSA) of the Commission for the Conservation of Antarctic Marine Living Resources (CCAMLR) that 18 seabird mortalities were observed in the 2012/13 fishing season, consisting of 16 White-chinned Petrels Procellaria aequinoctialis and two Northern Giant Petrels Macronectes halli. An estimated extrapolated mortality of 70 birds was calculated.
From 2007 to 2013 a total of 690 birds of three species (all ACAP-listed and including the Grey Petrel P. cinerea) were reported killed over the seven-year period, with a decline from a high of 257 in 2008. White-chinned Petrels were the most commonly killed, at 608 over seven years.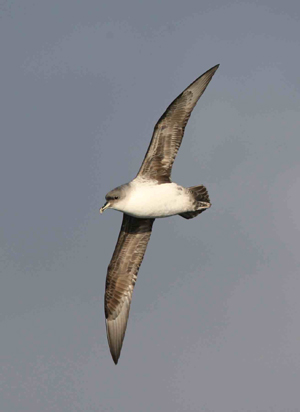 Grey Petrel at sea, photograph by Peter Ryan
Conservation Measure 25-02 'Minimisation of the incidental mortality of seabirds in the course of longline fishing or longline fishing research in the CAMLR Convention Area' was adhered to in the fishery. An exemption was allowed to the requirement for night setting by achieving the sink rates described in CM 25-02 and subject to a seabird by-catch limit.
The report states that "[a]dditional measures for the upcoming season will also be applied … , including:
(i) changes to the bird exclusion device to ensure it is effective in all weather conditions
(ii) closure of fishing areas and quota allocation reduction to vessels that have high by-catch rates
(iii) education and training will be strengthened by regular meetings between TAAF and fishing masters of vessels with high by-catch
(iv) data will continue to be collected and submitted using CCAMLR standard methods and forms
(v) a demographic study on the white-chinned petrel will be undertaken at Kerguelen Island, as well as the continued population counts of white-chinned petrels on the Kerguelen archipelago."
Reference:
CCAMLR 2013. Fishery Report 2013: Dissostichus eleginoides Kerguelen Islands French EEZ (Division 58.5.1). Hobart: Commission for the Conservation of Antarctic Marine Living Resources. 9 pp.
John Cooper, ACAP Information Officer, 09 August 2014