The Royal Albatross Centre is located at Taiaroa Head on the tip of the Otago Peninsula, Dunedin, South Island, New Zealand. The centre is owned and operated by the charitable Otago Peninsula Trust whose purpose and objectives are the protection and enhancement of the Otago Peninsula. Taiaroa Head itself is a nature reserve managed by the New Zealand Department of Conservation.
Endangered Northern Royal Albatrosses Diomedea sanfordi breed on Taiaroa Head where they may be viewed by the public from the glassed Richdale Albatross Observatory, opened in 1983. Thirty-three eggs have been laid this (2013/14) season. The first egg is now starting to pip. The rangers have recorded 102 individually marked albatrosses so far this season, with seven colour-banded adolescents aged between five and seven years of age returning to the breeding locality for the first time.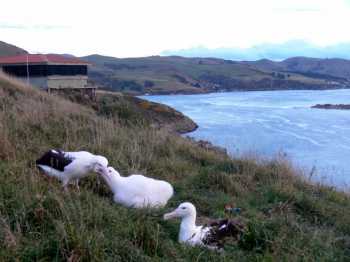 A Northern Royal Albatross family at Taiaroa Head
Photograph by Junichi Sugushita
Thirty-six pairs bred in 2012/13 with an upward trend since 1939 (click here).
John Cooper, ACAP Information Officer, 14 January 2014