Listen to a radio interview with ACAP News Correspondent, Lindsay Young of Pacific Rim Conservation on female-female pairing in Near Threatened Laysan Albatrosses Phoebastria immutabilis in Hawaii (click here).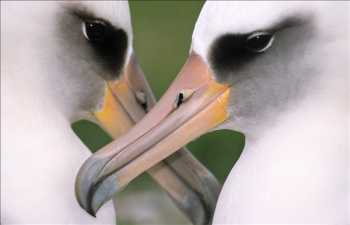 Laysan Albatrosses on Midway Atoll. Photograph by Jacob Gonzalez-Solis
Click here to read of Lindsay's latest research on same-sex pairing in albatrosses.
A female-female pair of Short-tailed Albatrosses P. albatrus has been laying infertile eggs on Kure Atoll in recent years (click here).
Reference:
Young, L.C. & VanderWerf, E.A. 2013. Adaptive value of same-sex pairing in Laysan albatross. Proceedings of the Royal Society Biological Sciences doi:10.1098/rspb.2013.2473.
John Cooper, ACAP Information Officer, 6 January 2014