A list of books and monographs published on the biology and conservation of albatrosses and petrels (including shearwaters, storm petrels and diving petrels) follows.
Note that books such as field guides and handbooks with a greater taxonomic coverage than members of the Order Procellariiformes are not included.
Conference proceedings, workshop reports, bycatch mitigation manuals and conservation and related plans dealing with procellariiform seabirds are listed elsewhere within the Resources Section of this web site.
For a list of children's books and fictional accounts on albatrosses and petrels click here.
Beck, J.R & Brown, D.W. 1972. The Biology of Wilson's Storm Petrel, Oceanites oceanicus (Kuhl) at Signy Island, South Orkney Islands. British Antarctic Survey Scientific Reports No. 69. 54 pp.
Bell, Elizabeth A., Sim, Joanna L. & Scofield, P. 2007. Demographic Parameters of the Black Petrel (Procellaria parkinsoni). DOC Research & Development Series No. 273. Wellington: Department of Conservation. 32 pp. ISBN 978-0-478-14225-9. www.doc.govt.nz.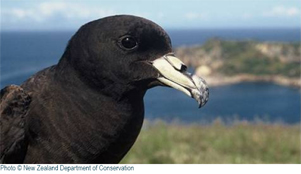 BirdLife International 2004. Tracking Ocean Wanderers: the Global Distribution of Albatrosses and Petrels. Results from the Global Procellariiform Tracking Workshop, 1-5 September, 2003, Gordon's Bay, South Africa. Cambridge: BirdLife International. 100 pp. ISBN 0-946888-55-8. www.birdlife.org.
Brooke, Michael 1990. The Manx Shearwater. London: Academic Press. 246 pp. ISBN 0-85661-057-7.
Brooke, Michael 2004. Albatrosses and Petrels across the World. Oxford: Oxford University Press. 499 pp. ISBN 0 19 850125 0. www.oup.com.
Conroy, J.W.H. 1972. Ecological Aspects of the Biology of the Giant Petrel, Macronectes giganteus (Gmelin) in the Maritime Antarctic. British Antarctic Survey Scientific Reports No. 75. 74 pp + 8 plates.
Cuthbert, R.J. 2017. Seabirds beyond the Mountain Crest. The History, Natural History and Conservation of Hutton's Shearwater. Dunedin: Otago University Press. 212 pp. Paperback. 240 x 170 mm. ISBN 978-0-947522-64-3. NZ$ 45. www.otago.ac.nz/press.
Davies, Margaret, Moller, Henrik & Bradley, Stuart (Eds) 2008. Procellariiform Biology - A Tribute to Irynej Skira, 1950-2005. Papers and Proceedings of the Royal Society of Tasmania 142: 1-204. ISSN 0080-4703.
De Roy, Tui, Jones, Mark & Fitter, Julian 2008. Albatross. Their World, their Ways. London: Christopher Helm. 240 pp. ISBN 978-0-7136-8812-2. www.acblack.com.
Doughty, Robin W. & Carmichael, Virginia 2011. The Albatross and the Fish. Linked Lives in the Open Seas. Austin: University of Texas Press. 302 pp. ISBN 978-0-292-72682-6. www.utexas.edu/utpress.
Fisher, James 1952 ( republished 1984). The Fulmar. London: Collins. 496 pp. ISBN 0 00 219065 6.
Fisher, Mildred L. 1970. The Albatross of Midway Island. A Natural History of the Laysan Albatross. Carbondale: Southern Illinois University Press. 161 pp. ISSN 0-8093-0426-0.
Gales, Rosemary 1993. Co-operative Mechanisms for the Conservation of Albatross. [Hobart]: Australian Nature Conservation Agency. 132 pp. ISBN 0 642 19745 8.
Gehrman, Elizabeth 2012. Rare Birds. The Extraordinary Tale of the Bermuda Petrel and the Man who brought it back from Extinction. Boston: Beacon Press. 240 pp. ISBN 979-0-8070-1076-1. www.beacon.org.
Harper, Peter C. & Kinsky, F.C. 1974. Southern Albatrosses and Petrels. An Identification Guide. Wellington: Price Milburn & Co. for Victoria University Press. 116 pp. ISBN 0-7055-0667-3.
Hasegawa, Hiroshi 2006. Ahodori ni Muchu (Passionate about Albatross). Tokyo: Shin-nihon Shuppan. 182 pp. (in Japanese)
Howell, Steve N.G. 2012. Petrels, Albatrosses, and Storm-petrels of North America. A Photographic Guide. Princeton: Princeton University Press. 483 pp. ISBN 978-0-691-14211-1. http://press.princeton.edu/titles/9534.html.
Jameson, William 1958. The Wandering Albatross. London: Rupert Hart-Davis. 99 pp.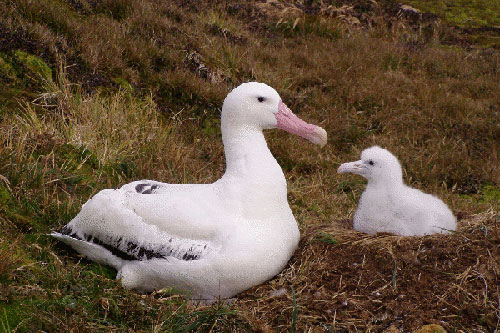 Lindsey, Terence 2008. Albatrosses. (Australian Natural History Series). Collingword: CSIRO Publishing. 139 pp. ISBN 9780643094215. www.publish.csiro.au.
Lockley, Ronald M. 1942. Shearwaters. London: J.M. Dent
Loomis, Leverett Mills 1918. Expedition of the California Academy of Sciences to the Galapagos Islands, 1905-1906. XII. A review of the Albatrossses, Petrels, and Diving Petrels. Proceedings of the California Academy of Sciences. Fourth Series Vol II, Part II. 187 pp + 17 plates.
Lorentsen, Svein-Håkon 1995. Reproductive Effort in the Antarctic Petrel Thalassoica antarctica: the Effect of Parental Body Size and Condition. Trondheim: Department of Zoology, University of Trondheim. Not conventionally paginated. ISBN 82-90896-61-1.
Matthews, L. Harrison 1951. Wandering Albatross. Adventures among the Albatrosses and Petrels in the Southern Ocean. London: Macgibbon & Kee with Reinhardt & Evans. 134 pp.
Moore, Peter J. 2004. Abundance and Population Trends of Mollymawks on Campbell Island. Science for Conservation No. 242. Wellington: Department of Conservation. 62 pp. ISBN 0-478-22570-9. www.doc.govt.nz.
Neves, Tatiana 2013. Albatroz. Um Projeto Pela Vida. São Paulo: Dórea Books and Art. 132 pp. ISBN 978-857234475-3. www.dbaeditora.com.br
Onley, Derek & Scofield, Paul 2007. Albatrosses, Petrels and Shearwaters of the World. London: Christopher Helm. 240 pp. ISBN 979-0-71236-4332-9. www.acblack.com.
Osterlund, H. 2016. Holy Mōlī: Albatross and other Ancestors. Corvallis: Oregon State University Press. 147 pp. ISBN 978-0-87071-849-9. Soft cover, illustrated with 22 black & white photographs. http://osupress.oregonstate.edu/book/holy-m%C5%8Dl%C4%AB.

Pearson, Bruce 2012. Troubled Waters. Trailing the Albatross, an Artist's Journey. Peterborough: Langford Press. 136 pp. ISBN 978-1-904078-48-7. www.langford-press.co.uk.
Peat, Neville 2011. Seabird Genius: The Story of L.E. Richdale, the Royal Albatross, and the Yellow-eyed Penguin. Dunedin: Otago University Press. 288 pp. ISBN-10: 1877578118. http://www.otago.ac.nz/press/.
Richdale, L. E. 1949. The Pre-egg Stage in Buller's Mollymawk. Biological Monographs No. 2 : 1-50.
Richdale, L. E. 1950. The Pre-egg Stage in the Albatross Family. Biological Monographs No. 3: 1-91.
Robb, Magnus, Mullarney & The Sound Approach 2008. Petrels Night & Day: a Sound Approach Guide. Poole, UK: The Sound Approach to Birding. 24 pp. + 2 CDs. ISBN 978-90-810933-2-3.
Robertson, Graham & Gales, Rosemary (Eds) 1998. Albatross Biology and Conservation. Chipping Norton: Surrey Beatty & Sons. 300 pp. ISBN 0 949324 82 5.
Safina, Carl 2002. Eye of the Albatross. Visions of Hope and Survival. New York: Holt and Company. 377 pp. ISBN 0-8050-6228-9.
Serventy, Vincent 1996. The Flight of the Shearwater. Kenthurst: Kangaroo Press. 76 pp. ISBN 0 86417 803 4.
Terauds, Aleks & Stewart, Fiona 2005. Albatross. Elusive Mariners of the Southern Ocean. Sydney: Reed New Holland. 175 pp. ISBN 1 877069 26 4. www.newholland.com.au.
Tickell, W.L.N. 1962. The Dove Prion, Pachyptila desolata Gmelin. Falkland Islands Dependencies Survey Scientific Reports No. 33. 55 pp. + 8 plates.
Tickell, W.L.N. 2000. Albatrosses. Mountfield: Pica Press. 448 pp. ISBN 1-873403-94-1. www.acblack.com.
van Franeker, Jan Andries. 2001. Mirrors in Ice. Fulmarine Petrels and Antarctic Ecosystems. Groningen: Rijksuniversiteit Groningen. Not conventionally paginated. ISBN 90-367-1352-8.
Waid, Robert 2005. The Majestic Albatross. Images of Kauai's Beloved Seabirds. Honolulu: Mutual Publishing, 51 pp. http://www.albatrosskauai.com/book/book2.html.
Warham, John 1990. The Petrels their Ecology and Breeding Systems. London: Academic Press. 440 pp. ISBN 0-12-735420-4.
Warham, John 1997. The Behaviour, Population Biology and Physiology of the Petrels. London: Academic Press. 613 pp. ISBN 0-12-735-4158.
*A dispute exists between the Governments of Argentina and the United Kingdom of Great Britain and Northern Ireland concerning sovereignty over the Falkland Islands (Islas Malvinas), South Georgia and the South Sandwich Islands (Islas Georgias del Sur y Islas Sandwich del Sur) and the surrounding maritime areas.
Last updated 28 November 2017