Atlantic Yellow-nosed Albatross Yellow E46 incubates on Gough Island on 12 October 2022 while waiting in vain for its partner J08, drowned six days previously, to return. By 25 Novenber it had deserted and its nest was empty, photograph by Lucy Dorman and Rebekah Goodwill
Note: ACAP Latest News is pleased to republish with her approval Andrea Angel's article below that first appeared in BirdLife South Africa's e-newsletter for November 2022. Some details and links have been added.
***************************
When I got a call from Imvelo Blue, a Cape Town-based fisheries monitoring consultancy, asking me to collect a dead bird brought in by a pelagic longline vessel, I was not surprised. We work closely with the observers and encourage them to bring back for research purposes birds that have been accidentally caught during fishing operations. The bird had been caught on 6 October 2022 by the vessel Ubuntu near the start of its fishing trip, some 300 km off Elands Bay on the west coast of South Africa. I asked if the observer could please meet me at the harbour so I could find out under what circumstances the bird had died.
"There was no observer on board this trip" was the reply. "The captain, Abilio, decided to bring back the bird for the Albatross Task Force to collect.'" This was unusual, as it is not often that a dead bird is brought back voluntarily by fishers. When I collected it on 19 October I saw it was an Atlantic Yellow-nosed Albatross, with a metal band on the right leg and a bright yellow alpha-numeric band J08 on its left. This meant it was an adult breeding bird and that it could only have come from one of the islands within the Tristan da Cunha Archipelago, more than 2500 km away!
The Endangered Atlantic Yellow-nosed Albatross Thalassarche chlororhynchos is endemic to the four Tristan da Cunha islands, where an estimated 26 000 pairs remain. In the early 1980s, the long-term monitoring of a study colony began on Gough, one of the Tristan da Cunha islands, allowing researchers to follow population trends and study the albatrosses' behaviour. These birds, like other similar albatrosses, form long-term pair bonds and breed annually in colonies. Pairs will lay a single egg during the breeding season, and it takes both parents six months to raise a chick to fledging.
I had seen this during a year I spent on Gough Island, how one of the parents remains behind while the other heads out into the ocean in search of food. It's gone for three to four days before coming back to either relieve its partner on an egg or with food for the chick. So, while my heart sank at the prospect of a partner waiting and the inevitable fate of the egg, the fact that Abilio had brought the bird to us was positive and we made a plan to meet up.
José Abilio de Jesus has been a fisher for most of his life and goes out fishing most months, for 10 to 12 days at a time. Originally from the island of Madeira in Portugal, he has made Cape Town his home and lives there with his wife and three sons. At the mention of Portugal, I ask if he still speaks the language and for the next hour or so we revert to Portuguese, talking about fishing methods and tuna, but also of orcas and sharks and how seabirds are caught. I want to know what made him return the bird to us and thank him. After all, he has nothing to gain from it, but for the Albatross Task Force working to reduce seabird deaths, it is a chance to engage, learn and together find ways to ensure fewer birds are caught, one vessel at a time.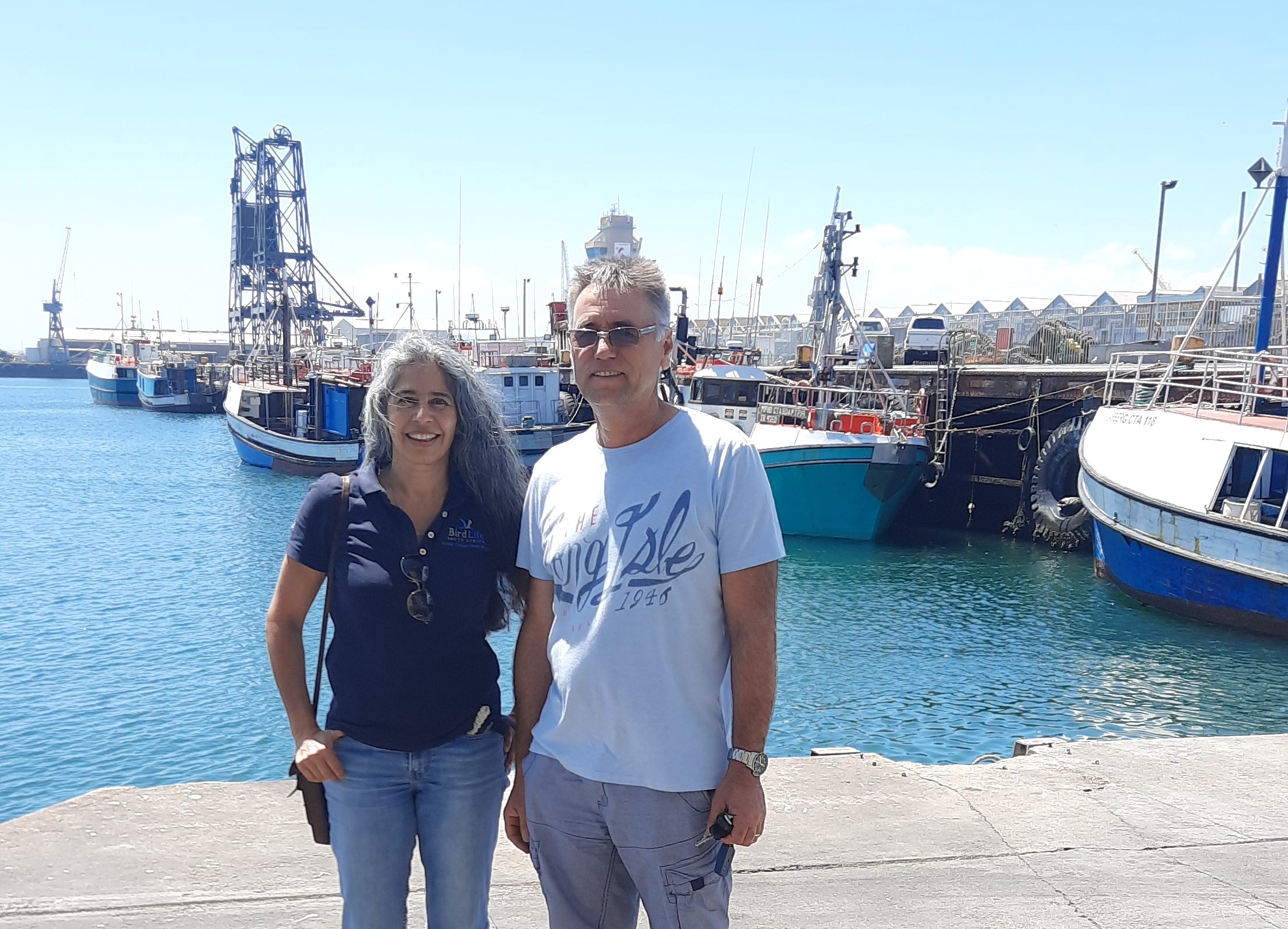 Andrea Angel and José Abilio de Jesus, owner of the longline vessel Ubuntu, in Cape Town harbour, photograph from the Albatross Task Force
I tell him about the albatrosses and Abilio quickly realises how the slowness of their breeding means that even if small numbers of birds are caught, it has a significant impact on total population numbers. He tells me he has recently started using the new bird-scaring line that we developed for smaller longline vessels and is very happy with it. The bird-scaring line acts as a scarecrow, preventing seabirds from accessing the baited hooks before they have sunk out of reach. Another measure is adding weights directly to the baited hook lines so they can sink faster. Abilio, however, uses weighted swivels, which can be very hazardous if the line is suddenly cut and a 60-g swivel is flung back like a bullet. I promise to give him information about safe leads, which have been specially developed to prevent flybacks. They are costly, but he is keen to try them and suggests he could phase them in slowly over time. We both parted with new knowledge and mutual appreciation, agreeing to keep communicating.
With the information provided by the bands on the albatross's legs, Steffen Oppel, Senior Conservation Scientist at the Royal Society for the Protection of Birds (the UK's BirdLife partner) was able to tell me that the bird had been banded as an adult on Gough Island in 2016 and they also knew its long-term partner, yellow E46. Hatched on Gough, it had been banded in 1997. Researchers currently on the island confirmed that E46 was sitting on an egg around the time its mate had drowned at sea, but that by 25 October its nest was deserted.
Can there be a silver lining to the death of an albatross? I hope so, as only by becoming aware can we change our perceptions, develop trust and ultimately make a difference by changing the way we do things.
Andrea Angel, Albatross Task Force Manager, BirdLife South Africa, 01 December 2022