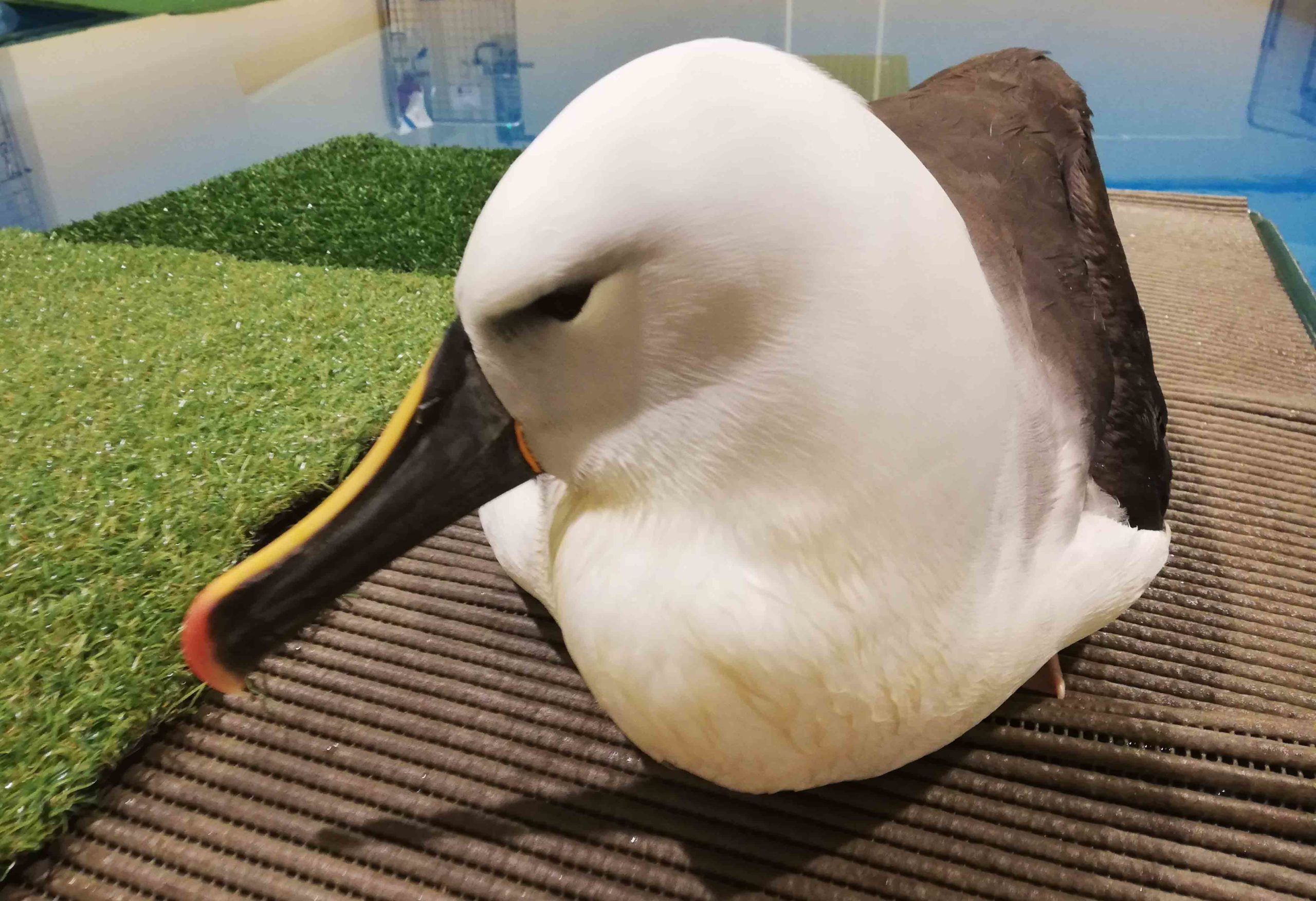 Albert, the Indian Yellow-nosed Albatross
The story of Albert
In November last year, the South African Association for Marine Biological Research (SAAMBR), based in Durban, KwaZulu-Natal, South Africa, received an adult Endangered Indian Yellow-nosed Albatross Thalassarche carteri for treatment. The bird had been spotted on the main beach at Southbroom on the south coast of KwaZulu-Natal.
"The bird appeared very lethargic. It did not have any fractures nor external injuries, and his radiographs taken in the Margate Veterinary Hospital identified no internal fishing hooks".
The bird, named Albert (although its gender was not determined) was then transported to uShaka Sea World (a division of SAAMBR) courtesy of the Lower South Coast SPCA where the animal health team administered fluids, fish gruel and left the bird to rest for the night. "The next morning he continued to appear lethargic and did not seem to recover despite their efforts and unfortunately, passed away."
Read more about Albert here.
The story of Emily

Emily, the juvenile Indian Yellow-nosed Albatross under care
On 7 May this year the uShaka Sea World animal health team received another yellow-nosed albatross, this time a juvenile, which was considered to be of the same Indian species as was Albert. Named Emily (although again gender was not known), the bird was found sitting on the upper deck of a cargo vessel while in the offshore anchorage area before it entered Durban Harbour.
"She was full of energy and her physical condition appeared to be good. It was thought that she had taken it upon herself to rest on the deck of the boat while it was out in the pelagic ocean. Unfortunately, because albatrosses need a long "runway" to lift themselves into the air, and the deck of a boat is totally unsuited to this type of lift off, she would have found herself stranded."
The Transnet Ports Authority pilot who boarded the ship was informed of the animal visitor that they had onboard. The pilot then contacted uShaka Sea World who met the ship once it had docked and collected the bird. Described as malnourished and weak, it was fed and rehydrated over a couple of days. After being given a clean bill of health, the albatross was taken out to sea in the National Sea Rescue Institute (NSRI) vessel, the Spirit of Surfski VI, and released on 12 May 6.5 nautical miles offshore by uShaka Sea World staff. After at least 20 minutes preening on the sea surface the bird took to flight.
Read more about Emily here.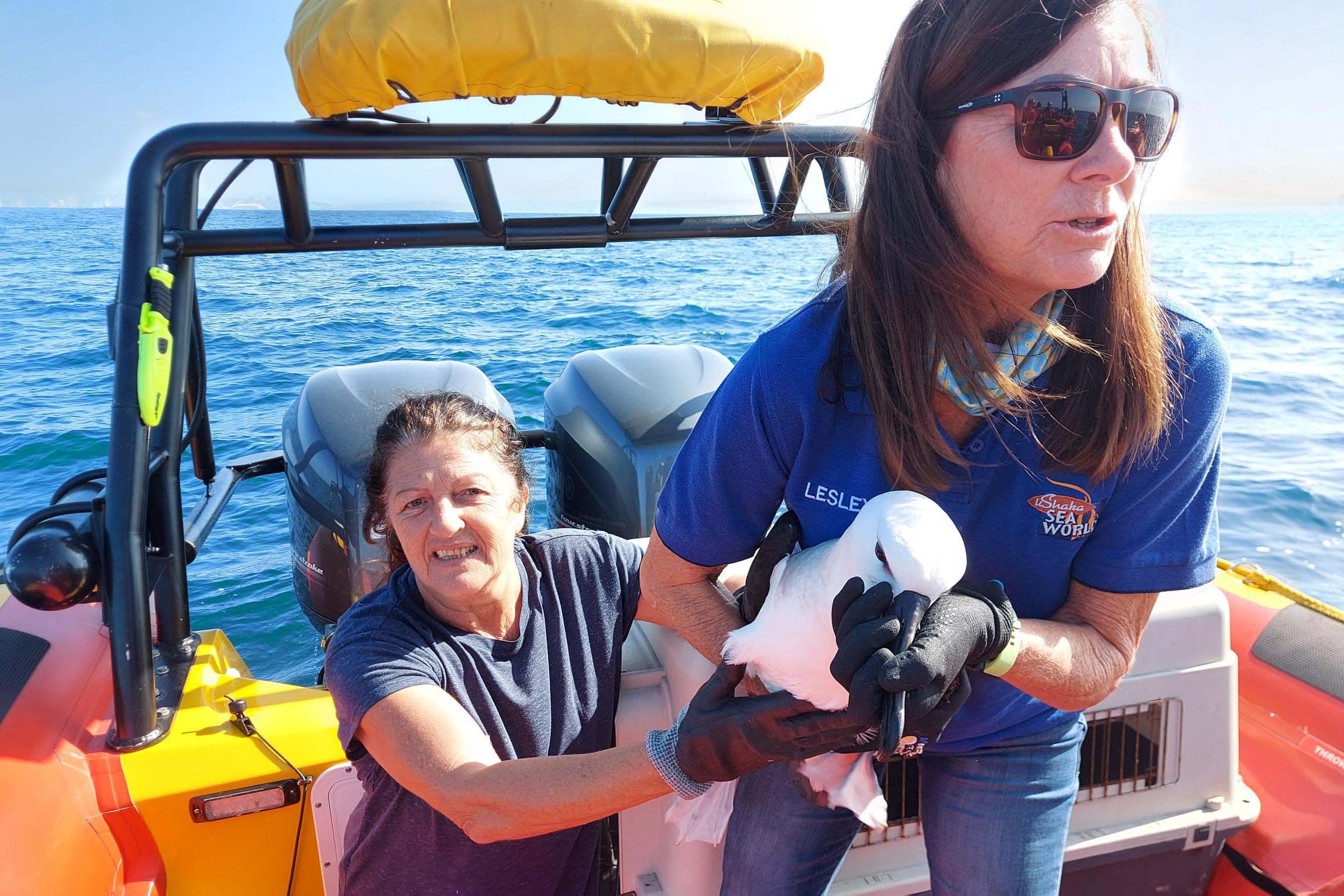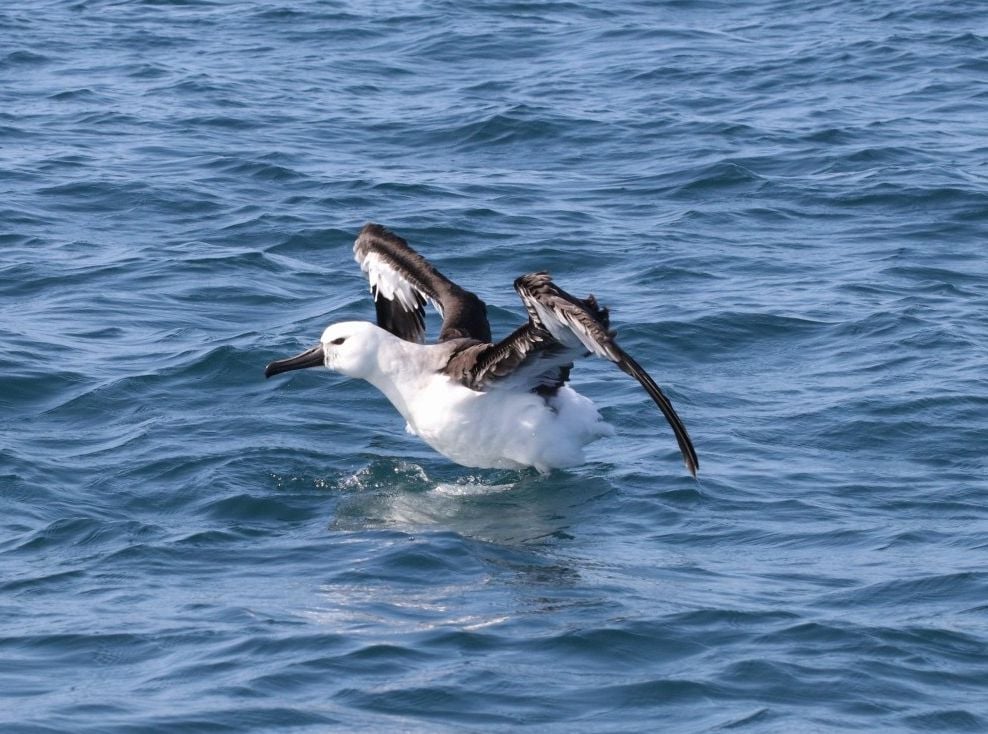 Emily gets released and takes to flight; photographs from SAAMBR
John Cooper, ACAP Information Officer, 18 May 2022