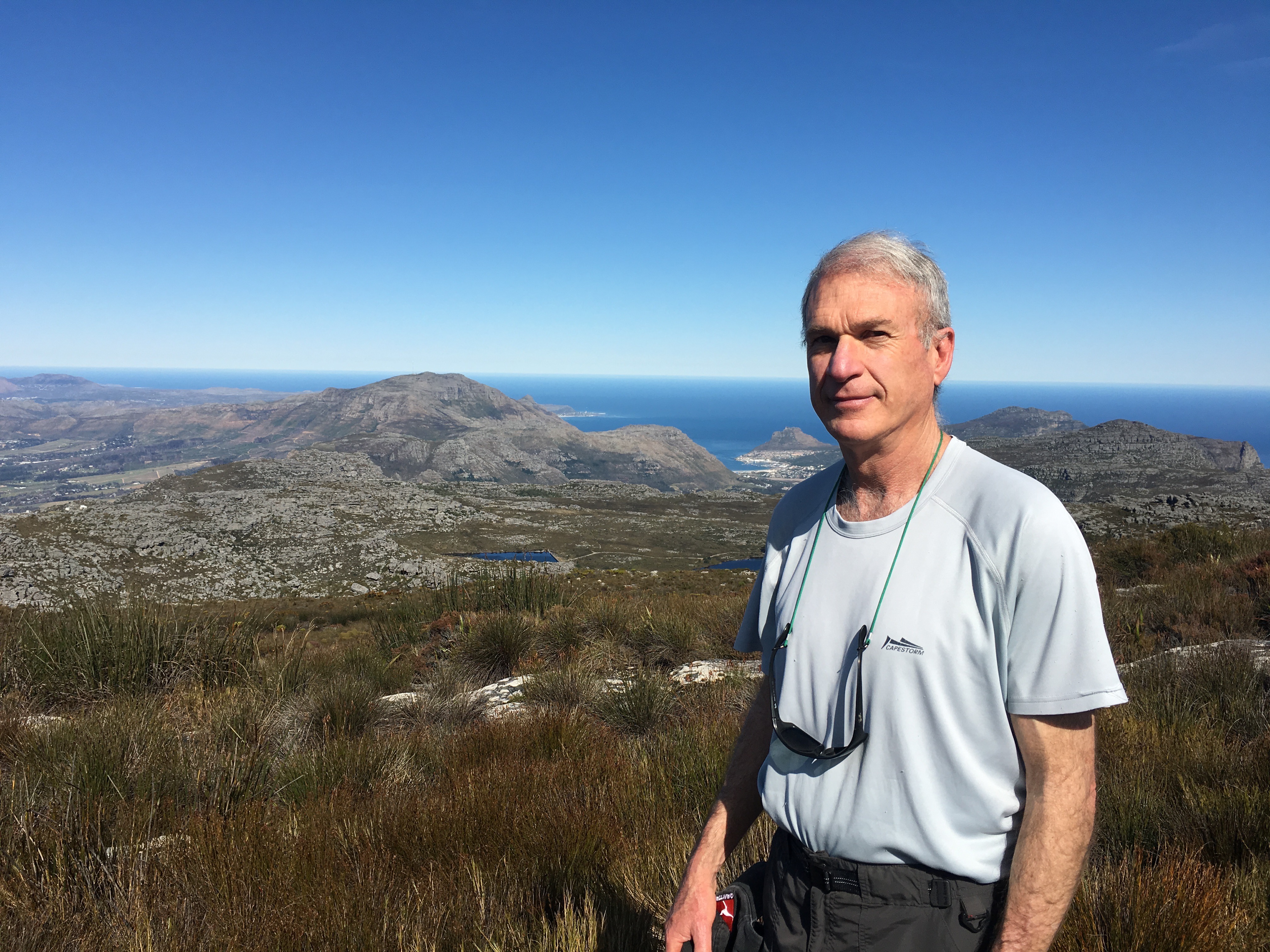 Shaun Schneier on the plateau of Cape Town's Table Mountain – with the Southern Ocean over the horizon
Following the Mouse-Free Marion Project's interview with Roeloff Botha, one of the very few who so far have sponsored at least 100 hectares of the 30 000-ha island to help rid it of introduced House Mice that have taken to attacking albatross chicks, the project has turned to another member of the prestigious and select 'Wandering Albatross' sponsorship category. He is South African Shaun Schneier, who currently leads the challenge by sponsoring a magnificent 145 hectares (at 1000 South African Rands a hectare). The project's interview with Shaun follows.
MFM: Have you had a personal connection with Marion, perhaps by visiting the island?
SS: No, unfortunately I have not yet visited the island but would certainly consider a future visit.
MFM: What motivated you to make your sponsorship?9
SS: When I was still at school I watched a documentary about albatrosses. I do not recall if it was about different species or just the Wandering Albatross. What really captivated me was their size and their way of taking off and landing, running and gaining speed into the wind and sometimes landing quite clumsily due to their considerable momentum. I could not help comparing this style of flight to that of an aeroplane as they soar so effortlessly once airborne! I subsequently gained great respect for their ability to remain at sea for long periods of time, the long journeys they make, the distances they travel just to enable them to feed their chicks and their ability to fly gracefully in gale-force winds. It is horrifying that creatures of such grace and dignity are being subjected to being eaten alive due to human carelessness which has enabled rodents to invade their habitat. I also find it disturbing that places as remote as Marion Island can so easily be degraded by invasive species and plastic waste. It is up to us as a species to do everything we can to undo the damage we are causing to our planet and its wonderful ecosystems.
MFM: Any other information about yourself that will give context to your donation?
SS: From 1984 to 2007 I worked in the Marine and Coastal Management Branch of the (then) South African Department of Environmental Affairs (now the Department of Forestry, Fisheries and the Environment). I then did some consulting work and am now retired. Although my academic background was in marine science and coastal management, I noticed that politicians and decision-makers were generally more persuaded by economic arguments than scientific ones. Recognizing the importance of environmental economics as a field which assigns economic value to ecosystems and their services, I completed some courses in economics and environmental economics. I have also been a member of environmental NGOs such as BirdLife South Africa and the Wildlife and Environment Society of South Africa (WESSA).
MFM: Anything else you might like to have mentioned?
SS: In order to assist you to encourage others to support the eradication of the "killer" mice, I would like to contribute the following. As mentioned on the Marion-Free website, "Marion Island is the jewel in South Africa's island crown – it is huge and beautiful, hosts an astonishing array of endemic species and charismatic marine megafauna" and should be pristine. The island's ecological value prompted the South African Government in 2003 to declare the Prince Edward Islands (which include Marion) a Special Nature Reserve, in terms of the Protected Areas Act. A plague of mice on the island now poses a threat to the survival of 18 of the 27 seabird species that breed on the island, including that charismatic icon of the open ocean, the Wandering Albatross. Mice also have significant impacts on invertebrates such as the flightless moths and weevils, plant communities and nutrient cycles.
The costs of leaving mice unchecked on Marion Island would be extremely serious. The island's ecological integrity and the rationale for declaring it as a Special Nature Reserve would be undermined. In contrast, the benefits of eradicating the mice from the island would be enormous. Successful mice eradication projects on New Zealand's Antipodes Island and the United Kingdom's South Georgia [Islas Georgias del Sur*] have demonstrated the viability of such projects and ecological restoration is already evident! Because Marion will be by far the largest island on which a mice eradication project is executed, this project will represent a great conservation achievement for South Africa and all the individuals who contribute.
MFM: Thank you!
Will there be further sponsorships to match or even exceed Shaun Schneier's 145 hectares, either from individuals or from groups? Marion Island's beleaguered seabirds definitely hope so!
John Cooper, ACAP Information Officer, 28 May 2021
*A dispute exists between the Governments of Argentina and the United Kingdom of Great Britain and Northern Ireland concerning sovereignty over the Falkland Islands (Islas Malvinas), South Georgia and the South Sandwich Islands (Islas Georgias del Sur y Islas Sandwich del Sur) and the surrounding maritime areas.
Note: This news post in a slightly different version also appeared today on the Mouse-Free Marion Project's website.