`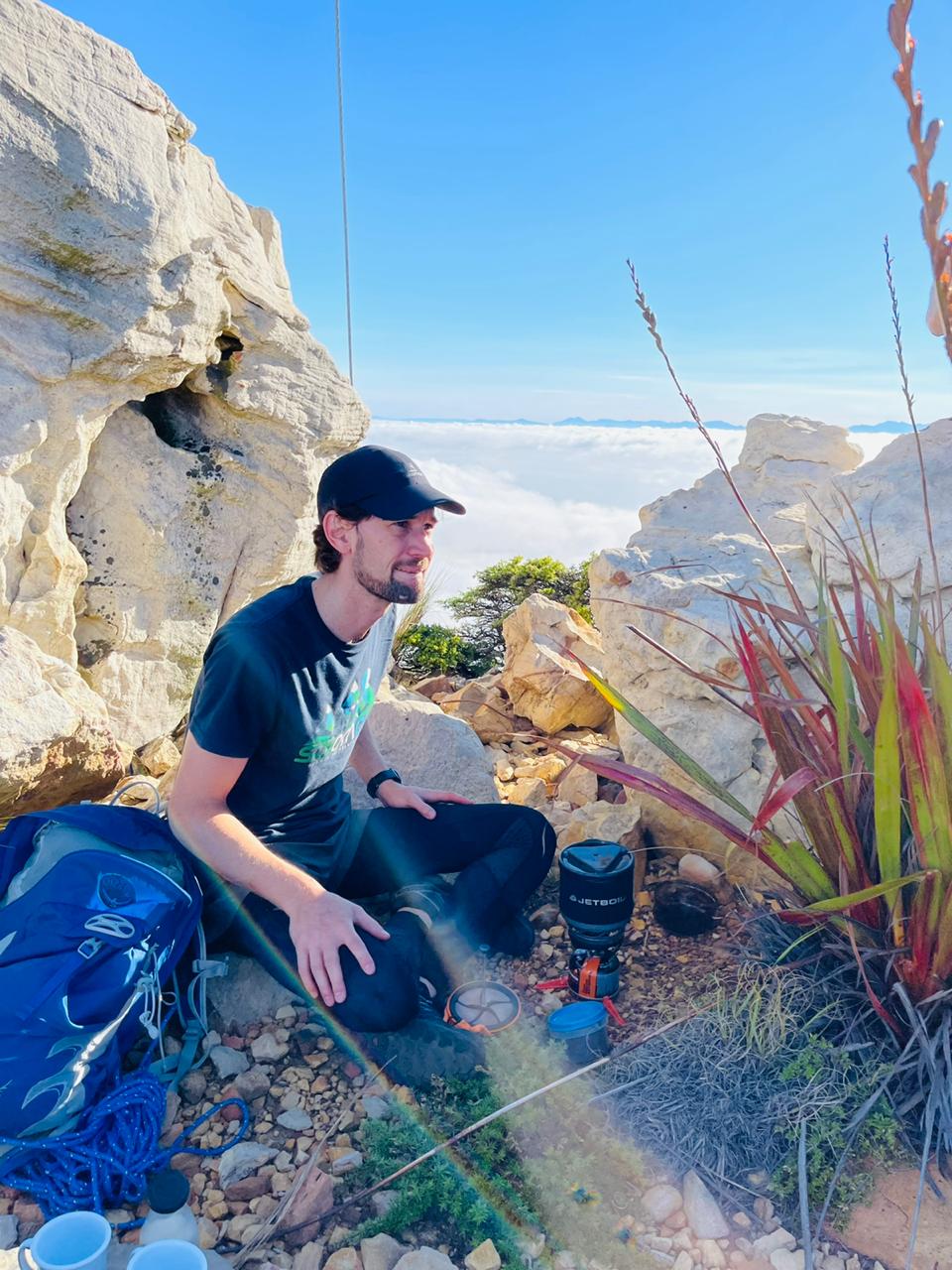 Out in his natural habitat: Roeloff brews up on Kloof Nek Corner on Cape Town's Table Mountain
To be in the Mouse-Free Marion Project's prestigious 'Wandering Albatross' category one needs to sponsor 100 (or more) hectares towards the eradication of the introduced House Mice that have taken to killing albatross chicks on the island by eating them alive. So far only three people have attained this level with their generous sponsorships. One is South African Roeloff Botha, a keen birder and a long-time BirdLife South Africa member. Mouse-Free Marion reached out to Roeloff, not only to thank him, but to ascertain what brought him to donate as much as South African Rands 110 000 (in two separate tranches) to the project. The questions and answers that follow reveal how a self-styled "ordinary South African" was motivated to support a worthy cause.
M-FM: Have you had a personal connection with Marion, perhaps by visiting the island?
RB: Although I've never had the privilege to visit Marion, it remains high on my 'bucket list'. I am participating in the 'Flock to Marion' bird-watching voyage being operated by BirdLife South Africa next year so that will give me my first experience of the island - albeit from a distance!
MF-M: What motivated you to make your sponsorship?
RB: I became aware of the challenge on Marion from various articles I read on the topic. I am a keen birder and wildlife enthusiast, and so it was only natural to be moved by the plight of the birds on the island. I believe humanity has the responsibility to promote and support the protection of the natural world, and this felt like a great opportunity to do so. In fact, I consider it a tenet of my faith. Marion presents a chance for us to undo the damage we as humans have caused and, and given its remoteness, to do so in a lasting way. It would be amazing to look back at this one day in the future with the knowledge that I could play a part in the restoration of a small piece of our planet.
M-FM: Any other information about yourself?
RB: I'm just another ordinary South African, believing we can do good if we acknowledge the problem and put effort into solving it. I've been a BirdLife South Africa member for many years, and otherwise I'm just a keen outdoorsman – I run, hike and climb whenever I can (or whenever I'm not out birding!). Professionally speaking, I'm a Partner at PricewaterhouseCoopers, working on finance projects in various shapes and sizes.
M-FM: Anything else you might like to have mentioned?
RB: Steve Jobs is often mentioned as someone who wanted to 'make a dent in the universe'. I understand that to mean we should believe that we can make a lasting (and good) impact on the world – and you don't need to be the creator of the next 'Apple' to do so either - you could make a lasting impact through your contribution to the Mouse-Free Marion Project (or any other project close to your heart for that matter).
M-FM: And the Mouse-Free Marion Project heartily agrees!
John Cooper, ACAP Information Officer, 24 May 2021
Postscript: ACAP's Information Officer is supporting the Mouse-Free Marion Project by writing for its website in recognition of his abiding passion for the island developed over 31 visits from 1978 to 2014. This post, with minor rewording, first appeared on the Mouse-Free Marion Project website.