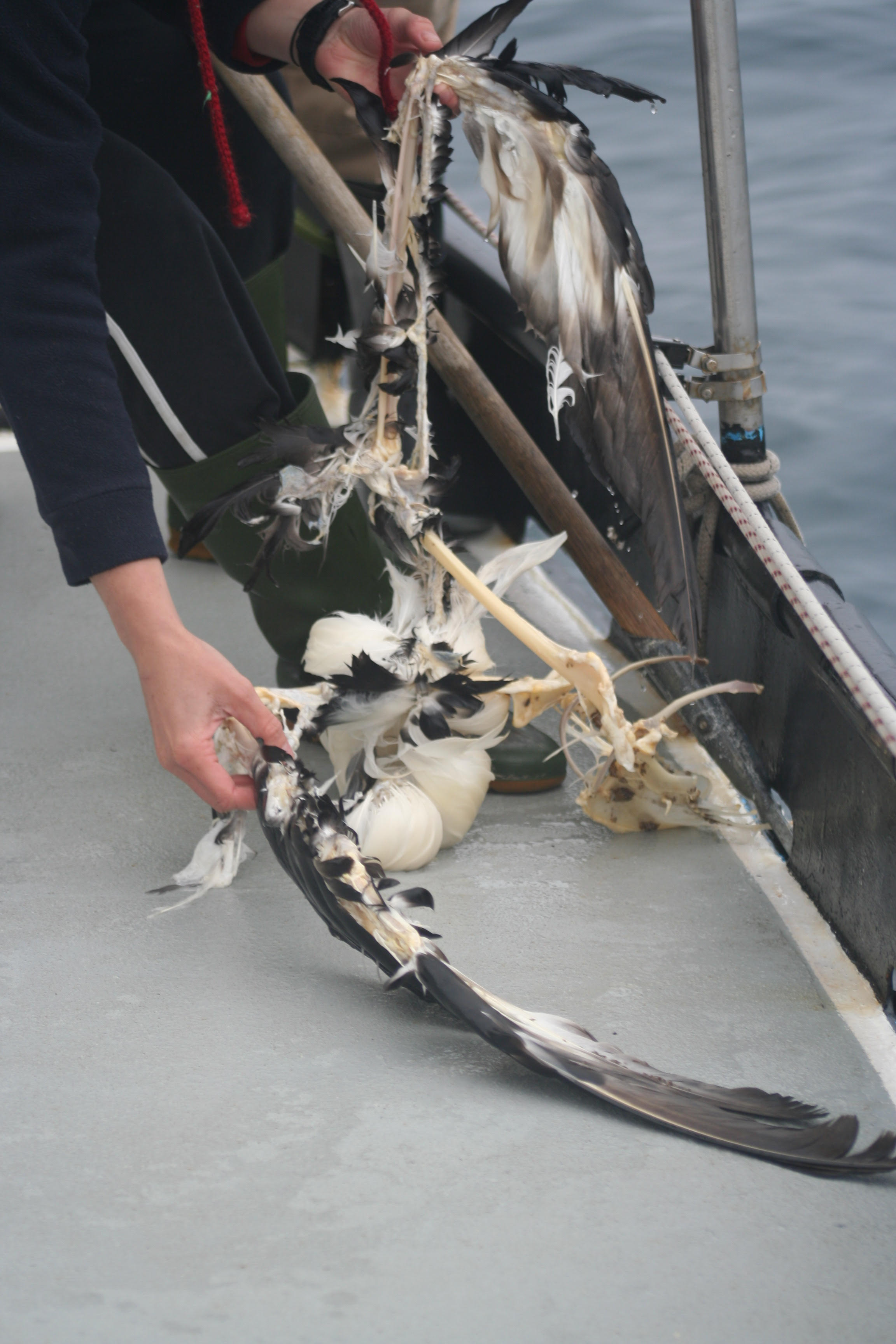 The remains of a Black-browed Albatross recovered near a squid jigger in the south-west Atlantic
Tim Reid (Institute of Applied Ecology, University of Canberra, Australia.) and colleagues have published in the journal Aquatic Conservation: Marine and Freshwater Ecosystems on observations of Black-browed Albatrosses Thalassarche melanophris being deliberately caught by squid jigging vessels for human consumption.
The paper's abstract follows:
"1. The waters of the Patagonian Shelf in the south-west Atlantic are nutrient rich, support large concentrations of wildlife, and are exploited by several fisheries, including the large Asian squid-jigging fishery. Although the squid-jigging fishery has previously been observed to have few problems with the accidental mortality of seabirds, the deliberate catch for consumption of seabirds by the crew has been identified as a possible issue.
2. Four cruises were made between Uruguay and the Falkland Islands during 2005–2006 to quantify the impact of jiggers on seabirds from indirect observation platforms. Monitoring included closely approaching 116 jigging vessels and boarding seven for inspection.
3. The use of non-jigging fishing gear, either for catching fish or seabirds, was observed at the stern of 33 vessels. Twelve seabird carcasses were observed floating close to vessels during 13 days of monitoring. Although the results recorded here are not sufficient to put a confident estimate on the magnitude of this mortality, the density of carcasses floating in the water among the jigging fleet indicated the potential significance of this problem.
4. The results were considered sufficiently concerning for the Falkland Islands Government to take preventative actions, including educational efforts, improving humanitarian conditions onboard vessels, introducing relevant legislation and licence conditions, and prosecuting intentional seabird take inside the Falkland Islands jurisdiction. This has resulted in the apparent elimination of these mortalities within Falkland waters since the late 2000s.
5. Nevertheless, it is likely that the same initial conditions exist for the crews of squid jiggers on vessels operating on the high seas, and so the possibility of the targeting of seabirds for consumption continues. Squid fisheries with substantial numbers of jiggers overlap with important foraging areas for a range of albatross and other species in high-seas areas such as the Patagonian Shelf, the Humboldt and Kuroshio currents, and the south-west Pacific Ocean. These areas of overlap may be important to investigate, especially in the foraging grounds of declining seabirds."
A squid jigger in the south-west Atlantic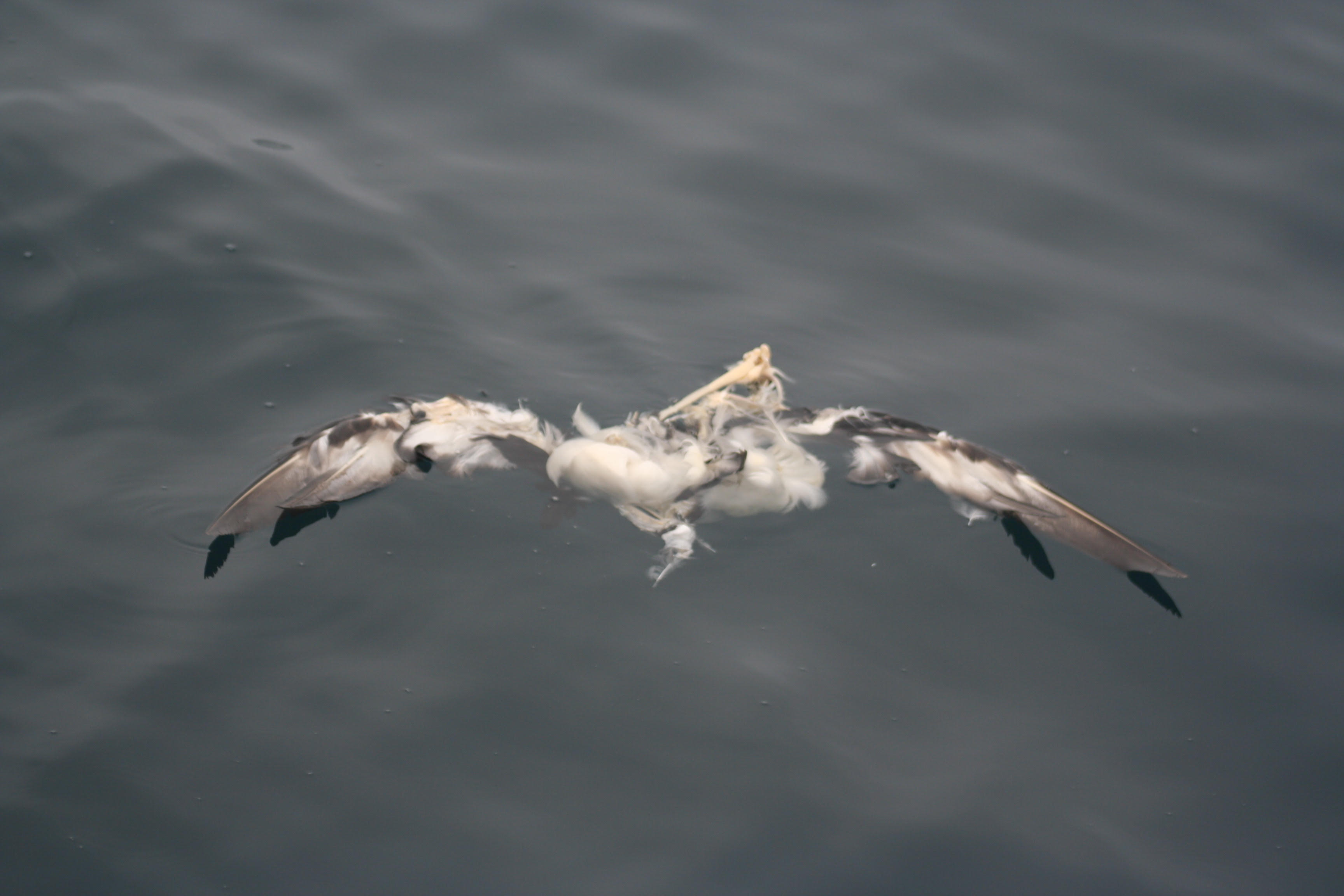 The corpse of a Black-browed Albatross floats at sea near a squid jigger in the south-west Atlantic
Photographs from Tim Reid
With thanks to Nigel Brothers and Tim Reid.
Reference:
Reid, T., Yates, O., Crofts, S. & Kuepfer, A. 2021 Interactions between seabirds and pelagic squid‐jigging vessels squid‐jigging. Aquatic Conservation: Marine and Freshwater Ecosystems doi.org/10.1002/aqc.3503doi.org/10.1002/aqc.3503.
John Cooper, ACAP Information Officer, 04 February 2021