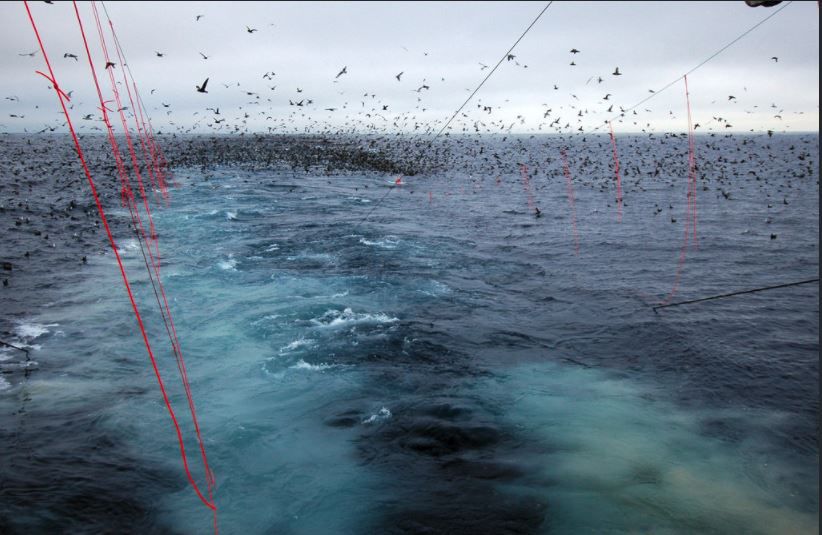 A bird-scaring line keeps seabirds at bay, photograph by Amanda Gladics
The UK's Royal Society for Bird Protection (RSPB) hosts the BirdLife International Marine Programme, with a particular emphasis on stopping albatross declines through implementing practical solutions to reduce bycatch in longline and trawl fisheries and protecting the most important sites for seabirds globally.
"We are looking for a visionary and inspiring marine specialist to head up the Birdlife International Marine Programme, leading the RSPB Global Seas programme, overseeing the Marine Programme Regional Co-ordinators in BirdLife International Partners across the world and co-ordinating the marine policy and scientific work at the BirdLife International Secretariat.
The overall aims of the Marine Programme are to improve the conservation status of the world's seabirds through the adoption of bycatch mitigation measures in longline and trawl fisheries, to identify bycatch mitigation measures in gillnet fisheries; and to delineate and protect marine Important Bird and Biodiversity Areas. The successful candidate will have extensive experience of seabirds and marine issues and excellent skills in facilitation and the development and co-ordination of a dispersed team."
Closing date: 12 August 2020; applications to Irene Sabiniarz at irene.sabiniarz@rspb.org.uk.
Read more here.
John Cooper, ACAP Information Officer, 04 August 2020